Sarah McNeilly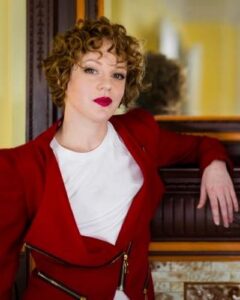 Sarah McNeilly is an artist, an academic, and an arts administrator.
As a theatre artist, her practice has recently focused on theatre creation through creative writing (scripts, prose, and poetry) and comedy (both sketch and stand-up). Sarah has studied dance, scene study, butoh, and Commedia dell'Arte with a wide range of mentors and teachers. She is a writer and performer for Peterborough sketch comedy troupe, LLAADS; she has written and performed a full-length stand-up comedy show to critical acclaim; and, she has performed lead roles with 4th Line Theatre, The Theatre on King, The Motley Collective, Arbor Theatre, and Mysterious Entity, among others. Sarah has created and co-created original work for Artsweek, Erring, and Emergency, among other festivals and venues. She is co-founder and co-writer of Haikusday, a weekly two-hour-long live radio show spoken only in Haiku, on Trent Radio. As a musician, Sarah has co-written and performed songs with two bands; she has twice played at Toronto's renowned annual music festival North By North East (NXNE).
Sarah is an M.A. candidate in Theory, Culture and Politics at Trent University, and has twice been the recipient of the Award for Outstanding Academic Achievement, Principal and Fellows of Peter Gzowski College – Trent University. She was also the 2019 recipient of the prestigious Award for Excellence in Teaching Assistance at Trent University.
She currently serves on the boards of The Theatre on King, Theatre Trent, and the Arts Culture Heritage Advisory Committee (ACHAC) for The City of Peterborough. Sarah is also the former President and Chair of the Board of Directors for Mysterious Entity Theatre Company.
Since the pandemic began, Sarah has become the Arts & Culture writer for online newspaper kawarthaNOW.com.