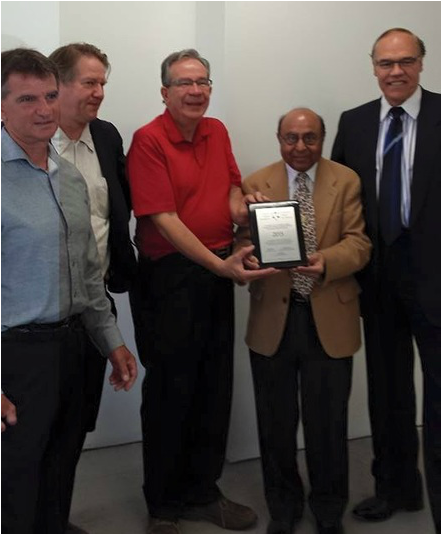 (Left to Right): Peterborough County Deputy Warden Joe Taylor, Bill Kimball (President EC3), MPP Jeff Leal, Dr. Ramesh Makhija, an Ontario Trillium Foundation (OTF) volunteer and Peterborough Mayor Daryl Bennett .
Electric City Culture Council (EC3)
MEDIA RELEASE
 – 
May 21, 2015                                                                                                  
For Immediate Release
MPP LEAL CELEBRATES $156,000 ONTARIO TRILLIUM FOUNDATION GRANT
Peterborough, ON
– On Thursday, local MPP Jeff Leal and Dr. Ramesh Makhija, an Ontario Trillium Foundation (OTF) volunteer, met with members of the Electric City Culture Council (EC3) to formally congratulate them on receiving a $156,000 OTF grant to undertake a three-year development project to build and strengthen its organizational capacity. Mayor Daryl Bennett and Deputy Peterborough County Warden, Joe Taylor, also joined the celebration. This is exciting news for EC3, a new cultural service organization focused on supporting and advancing the local arts, culture and heritage sector.
"I am pleased that our government, through the Ontario Trillium Foundation is partnering with the Electric City Culture Council to support the ongoing development of the arts, culture and heritage sectors in the Peterborough and surrounding areas.  This funding will help provide the new organization with the tools it needs to raise the profile of these three important sectors in our community "  Jeff Leal, MPP
Funds from the three-year OTF grant will help with EC3's staff and program costs. With funding in place, it will help build EC3's capacity and infrastructure, enabling it to present events in Peterborough and surrounding areas like Artsweek (September 18th – 27th), the Mayor's Luncheon for the Arts, the Arts Awards program and professional development workshops such as "The Arts and Accessibility Cultural Incubator" in June. For more information on upcoming events, please go to: www.ecthree.org
"We are very pleased and grateful to have received support from the Ontario Trillium Foundation to assist with the development phase of our organization.  This grant will help the Electric City Culture Council (EC3) hire an Executive Director, establish our operating infrastructure and build programming and services that will support and sustain the vitality of our cultural community for years to come.  We have received so much enthusiastic support for the idea of starting a Culture Council in our region and this grant will help our Board of Directors make it a reality." said EC3 Board Chair, Bill Kimball.
The Electric City Culture Council's mission is to develop and strengthen the creative ecology of the region by connecting creative individuals and organizations and
by providing the leadership, advocacy, professional development, knowledge resources, networking, programming and collaborative partnerships, that will build and support the capacity and infrastructure of the local arts, culture and heritage community.
EC3 acts as an antenna and sounding board for the arts, culture and heritage community. It develops and delivers services to help members, and the broader creative community, meet challenges, discover new opportunities, implement useful and innovative strategies and provides meaningful support to better serve artists, heritage professionals, cultural managers and audiences.
The leading grant maker in Canada, the Ontario Trillium Foundation strengthens the capacity of the voluntary sector through investments in community-based initiatives. An agency of the Government of Ontario, OTF helps build healthy and vibrant communities. For more information, please visit: www.otf.ca
-30-
For more information please contact:
Bill Kimball: EC3 Board Chair, 705 745 1788 / Su Ditta: EC3 Management Development Coordinator, 705 749 9101