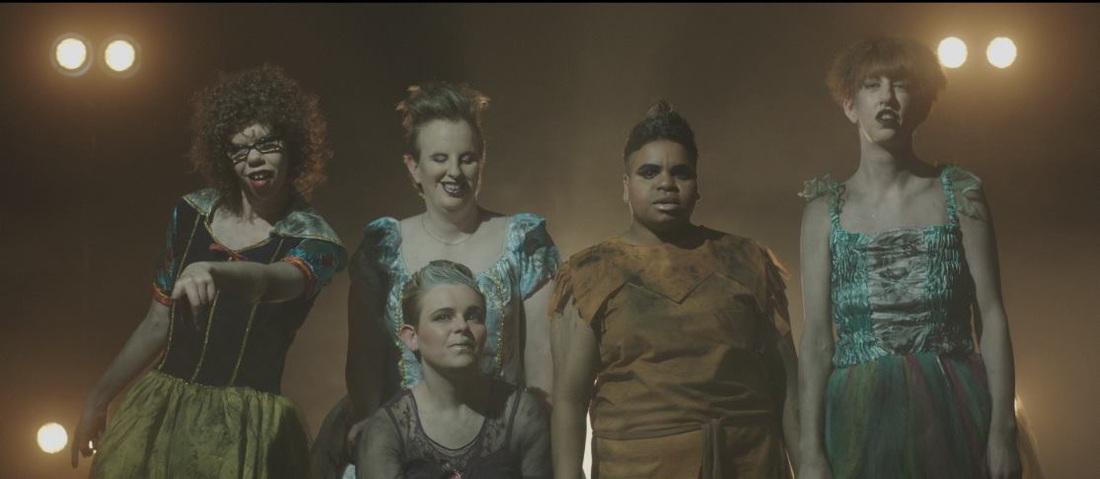 Thursday, March 17
 at 2 PM – 4 PM
For the first time in Peterborough, a showcase of short films by filmmakers with disabilities will be screened at Trent University, entitled CRIPCUTS. Presented by Tangled Art + Disability in collaboration with The Electric City Culture Council and ReFrame Film Festival, with community partners Trent Accessibility Services and Trent Active Minds, CRIPCUTS highlights films from across the globe exploring themes of discrimination, institutionalization, accessibility, mental health, and why it's okay to own many, many cats.
The filmmakers, and content of the films span across experiences of disability, race culture, gender, sexuality, and nationality, as CRIPCUTS: Short Films Exploring Disability and Difference is as diverse as the global disability community itself.
The short films of CRIP CUTS will be followed by a fantastic panel of filmmakers from the screening, moderated by jes sasche, long time contributor to Disability Arts in Peterborough!
CRIP CUTS Panel:
ALI SAEEDI – Tokens of Exclusions
Ali Saeedi – I am a Deaf Iranian-Canadian actor and film maker aspiring to one day start my own media company. I have written, acted and been an assistant director in many films and theatre productions, and I have taken courses in motion picture production and cinematography at Ryerson University. I know the fundamentals of editing and I have a diploma in make-up and special effects. I am eager to take advantage of other learning opportunities, especially since it has been difficult for me to participate in workshops and gain mainstream volunteering, because people have been unwilling to accommodate my language needs (ASL-English interpretation). I am passionate about media and dedicated to my craft. I very interested in people and culture. I would greatly appreciate this opportunity as I have so many creative ideas and talents to share with the world.
CANDICE LEIGHA – Tokens of Exclusion
Candice Leigha is an emerging artist with 10 years of experience working in the disability rights movement. Candice made several short films in 2011, when she was supporting local disability organizations in southern Africa through her work with the International Campaign to Ban Landmines (ICBL). However, Tokens of Exclusion is her first publically screened film. She is currently working on an short animated film about the experience of being put on psychotropic medication as an adolescent, which speaks to the pathologization of people and the importance of having person centred indicators of success in the mental health systems.
ROMEO PIERRE – In the Dark Night
Romeo is a multidisciplinary artist, musician and performer passionate about the performing arts and trans-activism. He uses his experiences of growing up with an intellectual disability and being a trans man to inform activism around issues of intimacy and disability. He is a co-researcher in the Reimagining Parenting Possibilities project, and has presented work in national and international contexts.
JES SACHSE – Panel Moderator 
jes sachse is a genderqueer visual artist, writer and curator obsessed with disability culture, public art, the post-industrial malaise of twenty-somethings living and breathing in toronto, and puns. Foremost a storyteller, they use sarcasm and contradiction to juxtapose disability archetypes with self-representations, to pervade public and private spaces and present audiences with the invitation to look.
Through the use of an interdisciplinary array of media, sachse has presented work on the international stage, including their recent curating of a unique disability arts program Kriptonite for Peterborough's Artsweek in 2012, and 2011. They have also been working closely with other Toronto-based disabled artists, facilitating a CHIR funded digital story-telling initiative, Project ReVision, since 2011. sachse's work has been featured in publications such as WORN Fashion Journal, The Toronto Tempest, Ryerson Free Press, The Toronto Star, Abilities Magazine, NOW Magazine, Xtra, Eye Weekly, and the 40th Anniversary edition of Our Bodies, Ourselves.
This event will be held in an accessible location. ASL interpretation and attendant care provided. Audio description provided for visual art exhibition and film. Film also includes captions. We request that you assist us in making a scent-free space.