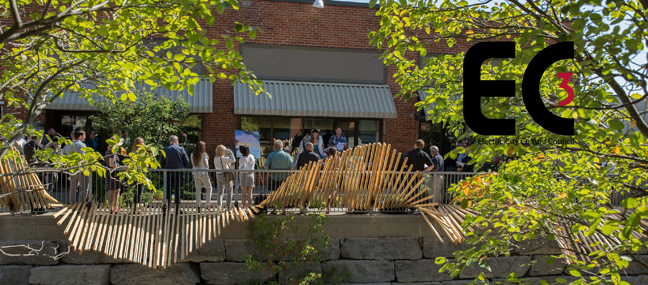 Hello ArtCity!
ArtCity
is the name of the Calendar section of the Artsweek 2016 web site, the place where all the arts, culture and heritage activities taking place in Peterborough during Artsweek
(September 23 – October 2)
are listed.  It is incredibly bountiful and reminds us once again what a truly creative community we live in!  More on
Artsweek 2016
coming up… 
Welcome Executive Director Su Ditta
EC3 welcomed a new Executive Director, Su Ditta, in May of this year.  You can see the Media Release about Su's appointment on our web site at www.ecthree.org.  We are thrilled to have someone with Su's experience and knowledge leading our team.  She has been busy pushing the management limits at EC3 and organizing Artsweek 2016, that's why you haven't heard from us for a while.  Thanks Su, for going the distance with us. 
Artsweek 2016: SAVE THE DATESeptember 23 – October 2, 2016 – Launch and Opening Ceremonies
September 23rd @ 12 Noon, NE corner of Queen and Simcoe
Artsweek 2016 is shaping up to be one of the best ever thanks to the nearly 100 artists who are participating in some 30 projects this year.  Don't miss the Launch on
September 23 @
12 Noon, on the NE corner of Queen and Simcoe,
featuring the unveiling of Alex Bierk's spectacular mural project
Passing Cloud
(2016).  There will be food and drink and a sneak peek at some Artsweek events. 
Artsweek 2016 features 5 Signature Programs:
Blink
Words
Porchapalooza
Pop Up Arts
New Moon Afternoon
Artsweek 2016 events are organized by our intrepid Program Director Laurel Paluck, who describes Artsweek 2016 this way:
ARTSWEEK IS…
BOLD quiet INTENSE playful SERIOUS mysterious INTELLIGENT delirious
MAGICAL practical EMOTIONAL curious DEMANDING rewarding…
ARTSWEEK IS a thought-provoking, soul-evoking journey into the heart and soul of Peterborough. 
It's all true and it wouldn't be possible without the Artsweek Team, dozens of individuals and the 85 collaborating businesses and organizations that we are calling Planet Artsweek.  You can find out more about Artsweek 2016 at artsweekptbo.com or check out the Artsweek Facebook page.  The web site is live now and the Program will be the centre spread in ECMagazine's September issue, available at all the usual spots on September 7th.
 
On the Advocacy Front
City of Peterborough
EC3 made a presentation to the City of Peterborough's Budget Committee in July this summer.  We were fortunate to work with Katherine Carleton of Orchestras Canada (headquartered here in Peterborough) and Blair MacKenzie, (Peterborough Symphony Orchestra).  After consultation with a number of groups and individuals, we focused our "ask" on a 10% increase to the Community Investment Grants Program.  Follow up will continue this fall.
 
Federal Government
EC3 represents the local arts, culture and heritage community on MP Maryam Monseff's innovative Social, Cultural and Arts Development Council.  This is an advisory group and EC3 has been in touch with numerous organizations in the City to get information and ideas to inform the work of this committee.  It's a unique opportunity to speak to our MP, who is a Cabinet Minister, about what federal programs and policies are crucial to our sector and what direction we would like to see the Government of Canada take.
 
Professional Development
We are currently putting the finishing touches on the Professional Development program for the fall and are planning an in-depth marketing seminar with Jennifer Murray of Porchlight Consulting.  Watch for further details coming soon from EC3.
 
New Subscribers
This will be the first time some of you are receiving a missive from EC3.  If you want to continue to hear from us and stay in the loop, do nothing and if you don't want to, please Unsubscribe.
 
See you all at Artsweek!