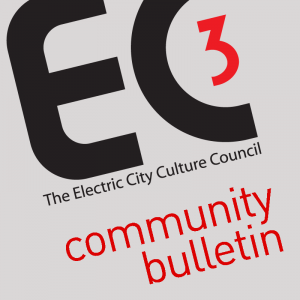 Dear Friends and Colleagues,
We are closely monitoring the evolving situation regarding COVID-19 and particularly its impact on the local arts, culture and heritage community. EC3 is posting information about closures, cancellations, alternative plans and ideas, as well as information resources on our Twitter account and Facebook page constantly.
We have been in touch with the Arts, Culture and Heritage Division at Peterborough City Hall and they assure us they are working hard on plans for grant approvals, the release of funds and other ACH business matters and will make announcements ASAP. EC3 has also asked that we be included in any planning exercises with regard to municipal relief programs, interim measures, recovery initiatives etc. Our sector is particularly vulnerable to job loss and income loss and may require special assistance. Many venues are closed and feeling a profound financial impact.
EC3 is also working with the Canadian Arts Coalition on information, advocacy initiatives and resources.
For information
We suggest you monitor the City of Peterborough website, Facebook page, and Twitter account for updates, as well as Peterborough Public Health for general COVID-19 updates and information.
Please follow the links below government updates on COVID-19 from the Federal and Ontario governments.
Please see the following website for ACH updates: Canadian Heritage, Ontario Arts Council, Toronto Public Health.
Action
We are retweeting updates from multiple cultural service organizations at @ECThreePtbo on Twitter and Electric City Culture Council on Facebook.
If you have ideas on how the City of Peterborough or EC3 can help meet the current challenges, please get in touch. Let us know how you or your organization is being affected, especially financially. What action could the City take that would make a difference? What recovery initiatives would help? Contact EC3 at electriccitycc@gmail.com.
Please keep monitoring our Facebook page and Twitter accounts. Website updates coming ASAP.
Also, please let us know if you have alternative plans for your programs, just in case we aren't getting your Facebook posts etc. Any fun ideas for arts or heritage activities that respect "social distancing" guidelines? Let us know and we will promote.
EC3 is mindful that the health and well being of all ACH workers, artists, staff and audiences is everyone's foremost concern.
Please take care of yourselves and don't hesitate to get in touch.
All the best,
Su Ditta and the EC3 Board and staff
Su Ditta
Executive Director
Electric City Culture Council (EC3)
electriccitycc@gmail.com
www.ecthree.org
705 749 9101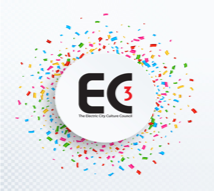 See our News & Information page for all the latest COVID-19 updates.