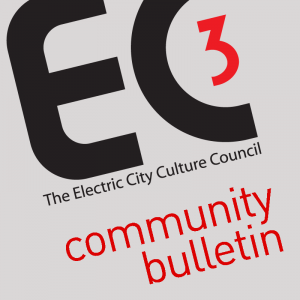 Hello Everyone,
This Bulletin brings some welcome news on long-anticipated and much-needed COVID-19 response and recovery funding for the arts, culture, and heritage (ACH) sector from the Ontario Arts Council, the Ontario Trillium Foundation, and Ontario Presents.  Our thanks goes out to these organizations.  In addition, Peterborough Public Health has released some excellent online guidelines for safe reopening and we will be announcing details on information and training sessions shortly.
As the summer continues, many businesses and organizations are continuing to reopen their doors and resume their operations, programs, and services with COVID-19 safety measures in place, but many artists and arts, culture, and heritage (ACH) organizations are still a long way away from being able to resume "normal" activities. Health restrictions can make it all but impossible to find box office and other financial models that will work. Organizations are working hard to stabilize and survive, looking for innovative ways to adapt to this new situation and provide alternative forms of programming.
Over the past few weeks there has been a new crop of funding opportunities for individual artists and for ACH organizations and venues, including special relief and recovery grants from the Ontario Arts Council, Ontario Trillium Foundation, and Ontario Presents. This bulletin serves as a roundup of these new funds.
In addition, the Electric City Culture Council (EC3) also wanted to share a new document from Peterborough Public Health, offering sector-specific guidance for those organizations who are getting ready to reopen (or have already done so). There are a number of generally useful ideas in there, as well as guidelines specifically for ACH organizations.
Ontario Arts Council: Arts Response Initiative
The Ontario Arts Council (OAC) has announced $1.6 million in new grant funding to "support activities and expenses focused on research, training and planning for ways to adapt artistic practices and activities in response to the COVID-19 context. OAC's project programs continue to support arts creation, production, presentation or dissemination and arts engagement activities, many with expanded eligibility related to COVID-19."
Who is eligible? There are three separate streams of funding: individuals; ad hoc groups, collectives, and organizations; and organizational partnerships between multiple organizations. Individuals and groups who do not currently receive OAC funding are still eligible for these funds, as long as they would be eligible for at least one other OAC project program. See more on eligibility.
How much? $4,000 for individuals; $15,000 for organizations; and $30,000 for partnerships.
Deadline? October 20, 2020 for individual grants; November 3, 2020 for organizations and partnership grants.
Find out more here.
Ontario Trillium Foundation: Resilient Communities Fund
The Ontario Trillium Fund (OTF) "is investing in projects of eligible non-profit organizations to aid their medium to longer-term recovery efforts, help with their stabilization and build their capacity and resiliency in the aftermath of COVID-19. This fund is providing a flexible range of activities over two deadlines to address the diverse needs of organizations and to support them where they are at in their recovery and rebuilding."
Who is eligible? Not-for-profit and charitable organizations working primarily in Ontario. See the full eligibility guidelines.
How much? From $5,000 to $150,000.
Deadline? OTF is rolling this program out with two deadlines: September 2, 2020 and December 2, 2020.
Find out more here.
Ontario Presents: Engagement Microgrants for Community Presenters
Ontario Presents is offering "small grants to presenters who wish to partner with a local artist to craft a project that will engage the community with the performing arts."
Who is eligible? "Any not-for-profit, small-hall, community presenters (volunteer or professional) in Ontario. Applicants do not need to be members of Ontario Presents, nor must they be venue-based. Please note that this program is intended for rural/remote communities – presenters must be not be located in the GTA or other urban centre."
How much? $5,000.
Deadline? August 21, 2020.
Find out more here.
New Reopening Guidelines from Peterborough Public Health
Peterborough Public Health has recently issued a comprehensive document with guidelines and many links to resources for safe reopening of workplaces and retail.
These include general guidelines that any organization should take a look at, as well as many sector-specific resources. Particularly relevant to the ACH sector are the sections on Interactive Exhibits at Museums, Attractions and Heritage Institutions; Libraries; and Live Shows, Performing Arts and Movie Theatres; among others. This document is well worth a look.
---
Please stay well and let us know how we can help.
TRACK THE IMPACT.
As always, keep checking the EC3 Facebook page, @ECThreePtbo on Twitter, @ec3ptbo on Instagram, and the COVID-19 Updates page on EC3's website, where we are providing daily updates on programs and services available for ACH workers and organizations.
Be safe, stay healthy, and please don't hesitate to reach out.
Su Ditta and the EC3 Board and staff
Contact
Su Ditta
Executive Director
Electric City Culture Council (EC3)
electriccitycc@gmail.com
www.ecthree.org
705 749 9101