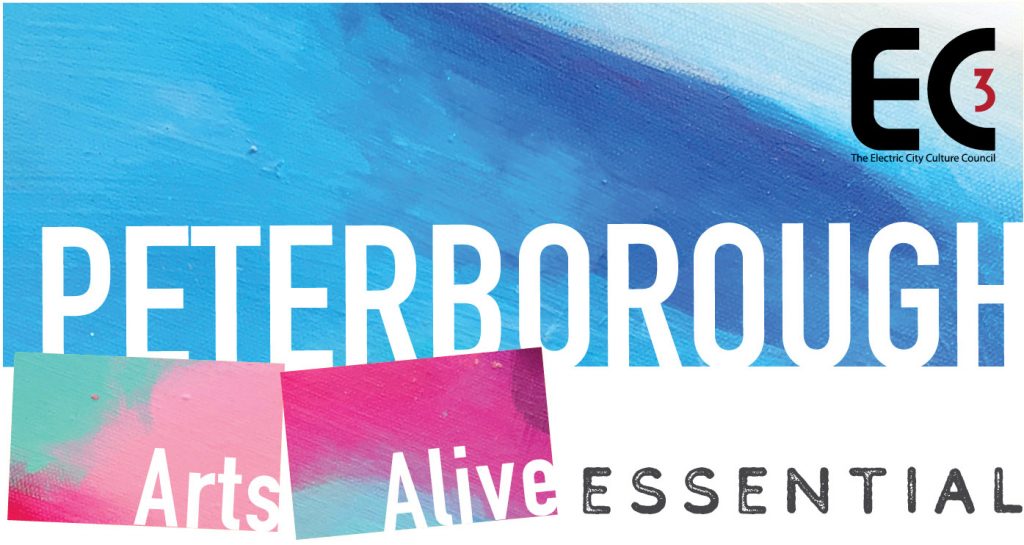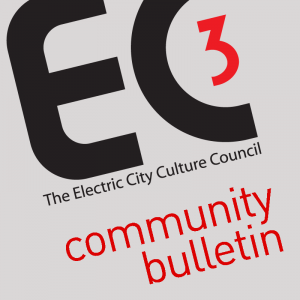 Hello Everyone,
Today EC3 is launching ESSENTIAL, the latest project in our Peterborough Arts Alive suite of COVID-19 response and relief programs and services. ESSENTIAL features a series of 17 photos of Peterborough artists during the pandemic by photographer Julie Gagne, accompanied by stories of their lives during this unusual and precarious time.
This Bulletin includes a full description of the project, as well as two sample images at the bottom. You can explore the whole series HERE.
The ESSENTIAL Photography Project
The 2020 COVID-19 pandemic has had a profound impact on both individual artists and arts organizations in Peterborough.  Performance venues and galleries have been closed, concerts cancelled, exhibitions postponed, entire seasons abandoned. Organizations and facilities are trying to grapple with the loss of revenue and an uncertain future. "Reopening" is not straightforward, to say the least.  Finding viable financial models, financing renovations and safety measures are just a few of the challenges.
Individual artists have lost their creative income and the opportunity to work together to create – something that is absolutely vital to them and to their audiences. Many have pivoted, and developed and presented some great virtual and digital projects.  But nothing replaces live performance in front of a live audience and the catalytic energy that comes from being together to rehearse, discuss, and plan projects, to gather at an opening or artist talk.  Isolated at home, cut off from their communities and the lifeblood that is their artistic practice, local still artists found ways to keep our cultural life alive. Silenced and almost invisible, they kept working.  But it hasn't been easy.
Local photographer Julie Gagne began photographing a number of Peterborough residents in their homes during the earlier stage of the pandemic and posted the photos on Facebook.  The eloquent, haunting images of her Within portrait project included some artists, and those incredibly moving images caught the eye of the Electric City Culture Council's Executive Director, Su Ditta.
Julie's photos made us think. We have all benefitted from the work of artists during the pandemic: we've listened to music, read books, watched films, toured virtual exhibitions and dived into archives, tuned in to living room and checked out porch concerts. What has it been like for the artists?  Will people remember how essential the arts were to getting through the pandemic when it comes to recovery funding and budget planning?  Will arts organizations be supported in a robust recovery plan?
EC3 asked Peterborough theatre artist Sarah McNeilly to curate and coordinate, and approached Julie Gagne to do a distinct series of photos that spoke to the experience of local artists and what art means to our lives, in good times and in bad.  It's ESSENTIAL.  The resulting 17 stunning, eloquent photo portraits of 20 artists and their artist statements will take your breath away. This arts awareness project is both a witness to the struggles of, and a testament to, the courage, resiliency, and contributions of this community during the COVID-19 lockdown.  Our heartfelt thanks go out to Julie, the participating artists and everyone in the arts community who have kept us going.
The ESSENTIAL project is available to view on the EC3 website at https://www.ecthree.org/program/essential-project/, and KawarthaNOW will be releasing the images on their website regularly over the next two months.
ESSENTIAL is the latest project in EC3's Peterborough Arts Alive suite of COVID-19 response and recovery programs and services.  Other programs include the Peterborough Arts Alive Fund, a fundraising effort for strategic recovery grants for local arts organizations; Culturecast Reprise, a playlist of interviews with local artists pulled from EC3's Trent Radio show and podcast The Electric City Culturecast; Conversations on Art in a Pandemic (Peterborough Arts Alive on SLACK), an online discussion space for and by artists; Digital Uplift, which provided consultations on digital skills development for almost 20 local artists and arts, culture, and heritage organizations; and a series of Micro Subsistence Grants for local professional artists.
The Electric City Culture Council (EC3) is a not-for-profit, arts, culture and heritage (ACH) organization providing advocacy, programs and services that support the ACH sector in Peterborough, Ontario and the surrounding region.
Sample Images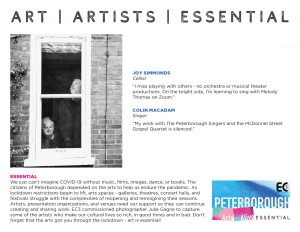 Click for full resolution image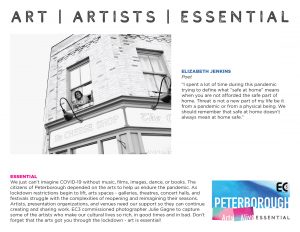 Click for full resolution image
---
Please stay well and let us know how we can help.
TRACK THE IMPACT.
As always, keep checking the EC3 Facebook page, @ECThreePtbo on Twitter, @ec3ptbo on Instagram, and the COVID-19 Updates page on EC3's website, where we are providing daily updates on programs and services available for ACH workers and organizations.
Be safe, stay healthy, and please don't hesitate to reach out.
Su Ditta and the EC3 Board and staff
Contact
Su Ditta
Executive Director
Electric City Culture Council (EC3)
electriccitycc@gmail.com
www.ecthree.org
705 749 9101