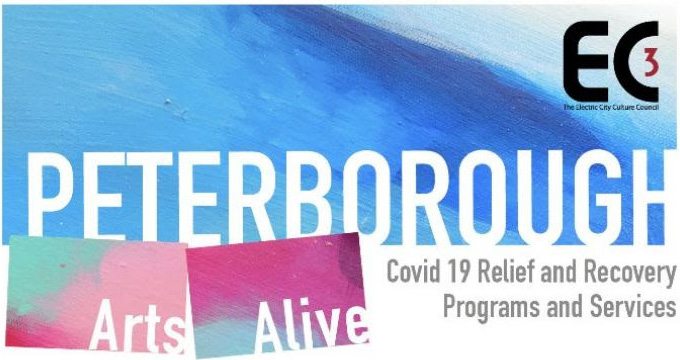 Peterborough's Arts Organizations Need Support to Stay Open and Keep Creating
Tune in to Some Important Media Coverage & Find Out How You Can Help
Hello Everyone,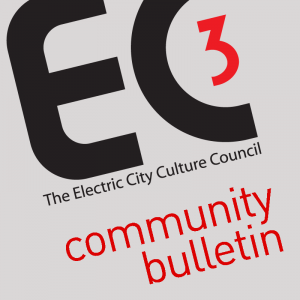 As you all know, the COVID-19 pandemic lockdown hit the arts, culture and heritage (ACH) sector particularly hard.  Venues are closed, box office, bingo and fundraising revenues are flatlining and artist fees and commissions have evaporated in every discipline. The first to close, and apparently the last to open in line with public health and safety regulations, this community was recently identified by the National Coalition for Hardest Hit Businesses as one of the most vulnerable and in need of both private and public support because of its impact on the tourism and service/hospitality industries. We know a landscape of vigorous arts activity is essential to the health and vitality of the downtown and plays a significant role in mental health and community cohesion.
EC3 has worked with different organizations to track the impacts and raise public awareness about this dire situation. It's all part of our Peterborough Arts Alive suite of programs and services developed in response to COVID-19 – find out more here.
We've also worked with private donors and the Community Foundation of Greater Peterborough to create the Peterborough Arts Alive Fund to support a program of Strategic Recovery and Resilience Grants for local organizations. The Fund needs your financial support to meet its target of $100,000.
The arts community needs your voice – please support existing municipal funding for the arts and speak out on behalf of special funds for COVID-19 recovery and response at all levels of government. To better understand why this matters, check out the Media coverage below:
The Peterborough Examiner Arts & Life Series
EC3 has partnered with The Peterborough Examiner to publish a series of articles about the arts in Peterborough. This series explores the challenges artists and ACH organizations are facing and what they need to survive, as well as promoting some of the great alternative arts events that are happening.
These articles appear every other Saturday on Page 1 of the Arts & Life section. So far there have been three articles:
"Raising the curtain: Peterborough's performing arts organizations confront COVID-19" by Esther Vincent (September 19, 2020), including interviews with Ryan Kerr of The Theatre on King, Emily Martin of Showplace, and Randy Read of New Stages Theatre Company.
"Pivot, shift, rethink, switch and keep going" by Esther Vincent (October 3, 2020), featuring interviews with Rick Fines, Bill Kimball of Public Energy, and Fynn Leitch of the Art Gallery of Peterborough.
"Pivot, shift, rethink, switch and keep going in Peterborough: Part 2" by Esther Vincent (October 17, 2020), featuring interviews with Megan Murphy, Kim Blackwell of 4th Line Theatre, and Laurel Paluck of Atelier Ludmila and the First Friday Art Crawl.
Watch for the next article on October 31.
"ESSENTIAL" in the News
In September, EC3 launched ESSENTIAL, a photography project by Julie Gagne documenting the lives of artists locked down at home during the pandemic. (You can read more about the series in our previous Bulletin.)
We partnered with KawarthaNOW, who have covering this issue extensively and have released the photos through their website and social media. Check out their original article on the series, and the ongoing coverage in their Arts & Entertainment section.
More recently, ESSENTIAL received high-profile coverage on CTV News at Six on October 16, 2020, highlighting the project and the wider challenges artists are facing. You can watch the video here (starts at 20:45).
More coverage in KawarthaNOW
KawarthaNOW has also published a number of other articles about the issues surrounding art and the pandemic, including:
Performing Arts on Global
The Peterborough Performing Arts Recovery Alliance also generated some important media attention about the sector recently.. Watch this piece from CHEX/Global News about the Alliance and the recovery work being undertaken by local performing arts groups.
You can make a difference by donating to the Peterborough Arts Alive Fund HERE.
---
Please stay well and let us know how we can help.
TRACK THE IMPACT.
As always, keep checking the EC3 Facebook page, @ECThreePtbo on Twitter, @ec3ptbo on Instagram, and the COVID-19 Updates page on EC3's website, where we are providing daily updates on programs and services available for ACH workers and organizations.
Be safe, stay healthy, and please don't hesitate to reach out.
Su Ditta and the EC3 Board and staff
Contact
Su Ditta
Executive Director
Electric City Culture Council (EC3)
electriccitycc@gmail.com
www.ecthree.org
705 749 9101