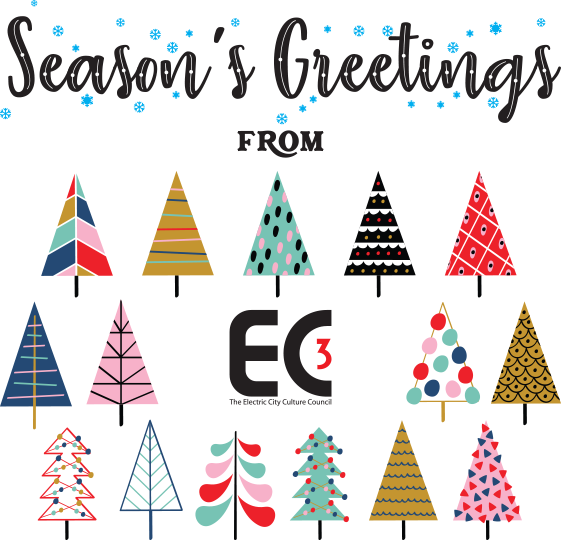 Happy Holidays Everyone,
We are trying to breathe, slow and deep, as everyone is at the moment, rushing to a much-needed break in what has been both an incredibly difficult, and at the same time, inspiring year.
We want to thank each and every one of you who have helped with advocacy, fundraising, provided leadership and emotional and moral support to the EC3 team, and for everything you have done to keep our arts, culture and heritage (ACH) organizations going, creating opportunities for artists to make work and for audiences to experience it, COVID-19 or no.
It is a time of both great gratitude for what we have and for what the ACH community has done to carry on, and a time of deep concern for the very tough circumstances so many people are facing and for what the near future will bring.
Many artists and arts organizations are still suffering, and we are a long way yet from fully opened venues and the return of box office ticket sales, familiar fundraisers, and a "normal" landscape of exhibitions, concerts, performances, fees paid to artists, groups working together and live arts experiences. In the meantime, this community has shown outstanding resilience and extraordinary imagination and innovation with digital projects and performances in every imaginable safe outdoor space. We are honoured, proud and so grateful to work in this amazing community.
Special thanks go out to City Council and City staff for their support of the ACH sector and to the Peterborough Performing Arts Recovery Alliance for their terrific advocacy and fundraising efforts. We are also so very grateful to campaign champion Deborah Berrill and all the folks who donated and are still donating so generously to the Peterborough Arts Alive Fund in our partnership with the Community Foundation of Greater Peterborough.
EC3 owes a particular thank you to curators Hannah Keating and Justin Million, and all the fine artists who took part in Art Loves Pride and the Artsweek SHIFT projects Downtown and Post-Code Tour. Thanks as well to Christy Haldane, Sarah McNeilly, Julie Gagne and all the artists who participated in ESSENTIAL and Conversations on Art in a Pandemic.
Finally, a huge thanks to Gabe Pollock who brings such great skill and intelligence to his work as Research Lead and Program Coordinator every day, to our inimitable bookkeeper Susan Newman and ou ever-creative designers Jeff Macklin and Rob Wilkes, to our amazing President Bill Kimball, and to all our Board members who work so hard serving the ACH community.
EC3 wishes you and all your near and dear ones a good break, and a happy, healthy and safe New Year. Keep the faith. Bring on the joy!!!
Su Ditta
Executive Director
Electric City Culture Council (EC3)
electriccitycc@gmail.com
www.ecthree.org
(705) 749-9101