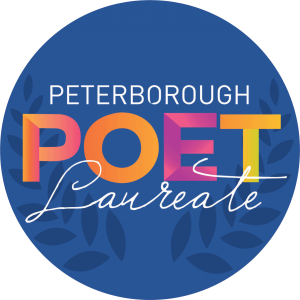 Hello all,
We hope that everyone is enjoying the warm weather. Before we all sign off for the long weekend, we just wanted to provide a reminder that the Nomination Deadline for the Peterborough Poet Laureate Pilot Program is this coming Tuesday, May 25 at 11:59 pm.
Created by EC3 in collaboration with the City of Peterborough and the City's Arts, Culture and Heritage Advisory Committee (ACHAC), the Peterborough Poet Laureate is an honourary position that recognizes the excellence and outstanding achievements of professional poets (both print/page and spoken word) living and working in our city and enhances our civic identity and sense of place.
The Poet Laureate serves a one-year term, acting as an advocate for poetry and spoken word art, for the arts in general, and for the City of Peterborough and its residents. They will compose works to be presented at Peterborough City Council meetings and other official City of Peterborough events and occasions. The Poet Laureate will receive an honourarium of $2,000.00.
If you know a deserving print/page poet or spoken word artist who you think can represent the community and our city, nominate them. Or, if you want to be the Poet Laureate, get someone to nominate you.
Find the full Program Guidelines and Nomination Form HERE.
In case you missed it….
Last week, EC3 held an Information Session on the Poet Laureate program via Zoom, that provided information on the program guidelines, explained how to put together a Nomination/Application, and provided tips and tricks on making a successful Nomination/Application.
If you would like to watch this session there is a recording of the workshop on our YouTube channel, and you can find a copy of the workshop's PowerPoint presentation on our website.
---
Please stay well and let us know how we can help.
TRACK THE IMPACT.
As always, keep checking the EC3 Facebook page, @ECThreePtbo on Twitter, @ec3ptbo on Instagram, and the COVID-19 Updates page on EC3's website, where we are providing daily updates on programs and services available for ACH workers and organizations.
Be safe, stay healthy, and please don't hesitate to reach out.
Su Ditta and the EC3 Board and staff
Contact
Su Ditta
Executive Director
Electric City Culture Council (EC3)
electriccitycc@gmail.com
www.ecthree.org
705 749 9101