A 'Pocket Festival' of Arts Events to Take You Sailing Through the Summer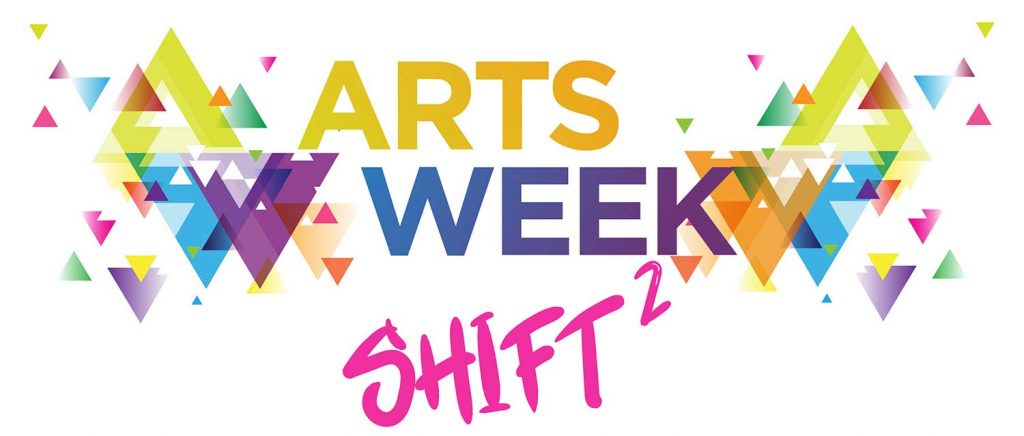 Hello everyone,
It seems risky to get too optimistic these days, but as the sun shines, vaccination rates rise each day, and Ontario prepares its "reopening," it's starting to feel like we may just get through this thing. And today, we have one more thing for you to get excited about this summer: the Artsweek SHIFT² schedule of events is here!
Artsweek SHIFT² is an EC3 special COVID-19 pandemic project, offering a multidisciplinary 'pocket festival' of nine innovative and exciting arts projects that have been specifically designed to meet the challenges of presenting work during a pandemic. It takes place across the city and online, between now and July 31. Don't miss circus extravaganzas on Armour Hill, spoken word on Instagram, theatrical monologues on Zoom, collaborative audio works on Trent Radio (92.7FM), a multimedia puppet show presented live to one audience member at a time, and more.
All Artsweek SHIFT² events are free!
We are so grateful to the nine arts organizations and groups that have worked tirelessly over the past few months, through the challenges of lockdowns and ever-changing reopening plans, to craft events these unique events. In person and online, we can't wait to show you what these artists have been creating!
June 28 update: An updated version of the schedule has been released. Schedule below is the updated version.
Click to see full resolution images.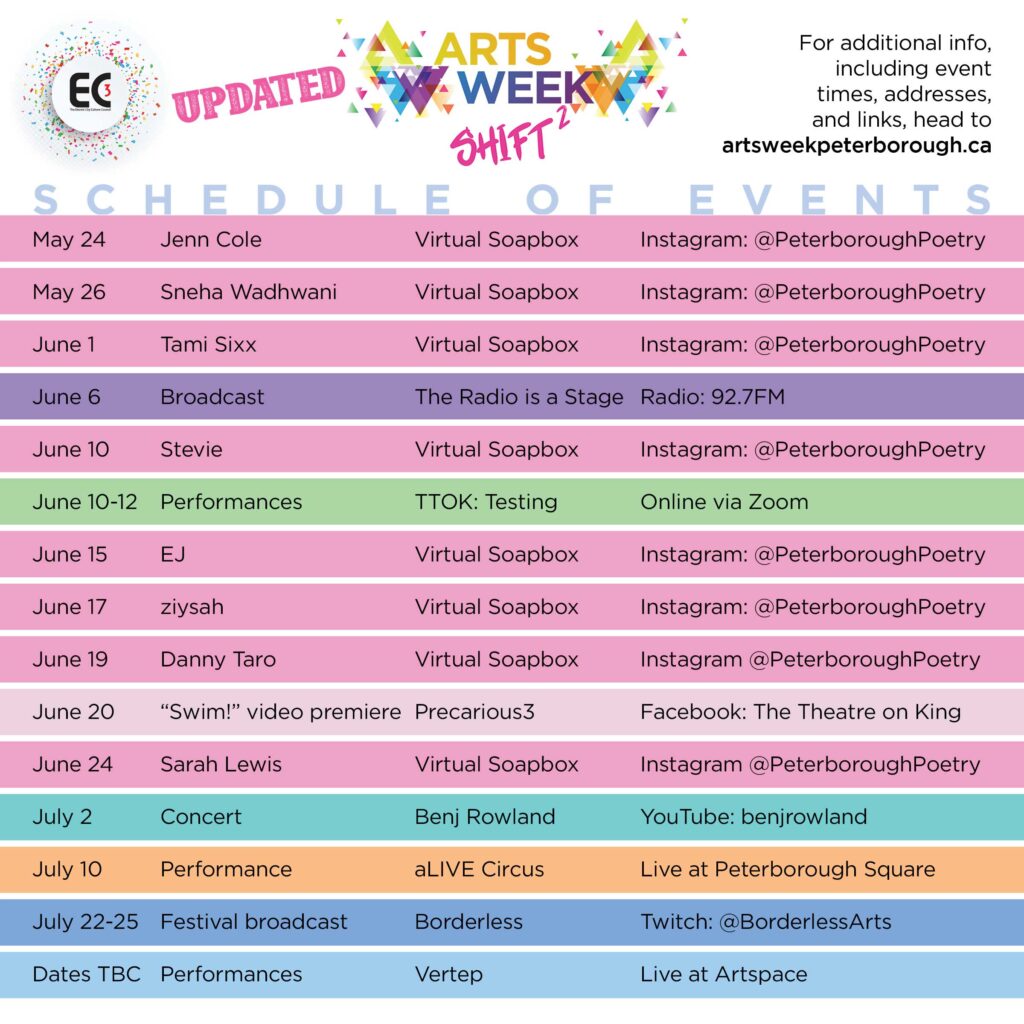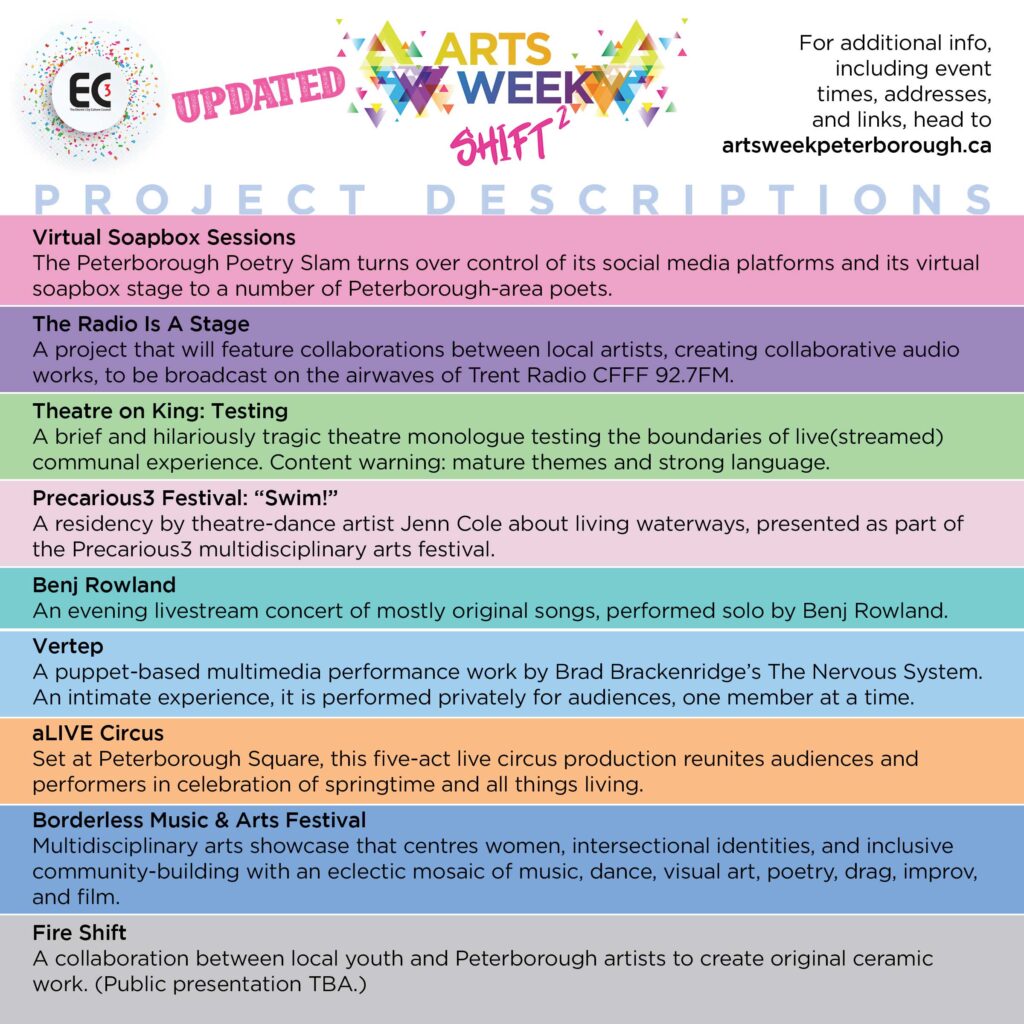 Full details on all Artsweek SHIFT² projects, including times, links, event details, and artist bios, can be found on the Artsweek SHIFT website. And don't forget to follow us on Facebook, Twitter, and Instagram, for more updates and announcements as they come in.
Thank You to Our Wonderful Artsweek SHIFT² Funders and Sponsors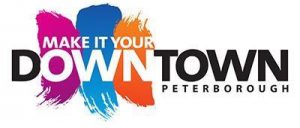 Thank you to The City of Peterborough and the Peterborough Downtown Business Improvement Area (DBIA) for their support of Artsweek and Artsweek SHIFT².
---
Please stay well and let us know how we can help.
TRACK THE IMPACT.
As always, keep checking the EC3 Facebook page, @ECThreePtbo on Twitter, @ec3ptbo on Instagram, and the COVID-19 Updates page on EC3's website, where we are providing daily updates on programs and services available for ACH workers and organizations.
Be safe, stay healthy, and please don't hesitate to reach out.
Su Ditta and the EC3 Board and staff
Contact
Su Ditta
Executive Director
Electric City Culture Council (EC3)
electriccitycc@gmail.com
www.ecthree.org
705 749 9101