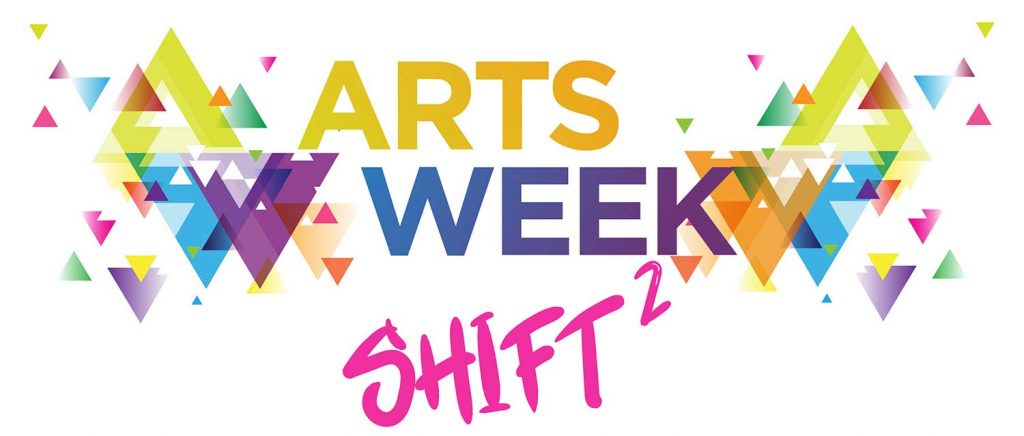 Peterborough, ON – The Electric City Culture Council (EC3) is pleased to release the full schedule for Artsweek SHIFT², a small but mighty, multidisciplinary 'pocket festival' of arts events, presented both in-person throughout Peterborough and online, between now and July 31, 2021.  (See full schedule at the bottom of this Media Release.)
Artsweek SHIFT² includes nine innovative and exciting projects by local artists and arts organizations working in a wide range of artistic disciplines, crafting events specifically to meet the challenges of presenting work during a pandemic. Don't miss circus shows on Armour Hill, spoken word on Instagram, theatrical monologues on Zoom, collaborative audio works on Trent Radio, a multimedia puppet show presented live to one audience member at a time, and more. All Artsweek SHIFT² events are free!
Full details on all Artsweek SHIFT² projects, including times, links, event details, and artist bios, can be found on the Artsweek SHIFT website.
Artsweek SHIFT is a special COVID-19 pandemic project created by EC3 in response to the postponement until September 2021, of Artsweek 2020, the city's multi-disciplinary festival of the arts. Artsweek SHIFT began with series of arts events that took place in-person and online in October to December 2020, including curated projects Downtown and Post-Code Tour.
The second phase, Artsweek SHIFT², included an Open Call for Proposals for 13 Mini Grants to Professional Artists (announced previously), as well as the 9 Project Production and Presentation Grants that form the basis for this 'pocket festival.'
A complete list of all Artsweek SHIFT² projects and details about the 'pocket festival' can be found on Artsweek SHIFT's website, and regular updates will be provided on Artsweek's Facebook, Twitter, and Instagram.
EC3 thanks our amazing funders and sponsors The City of Peterborough and the Peterborough Downtown Business Improvement Area (DBIA) for their generous support in making Artsweek SHIFT² possible.
Artsweek SHIFT² Schedule
Click to see full resolution images.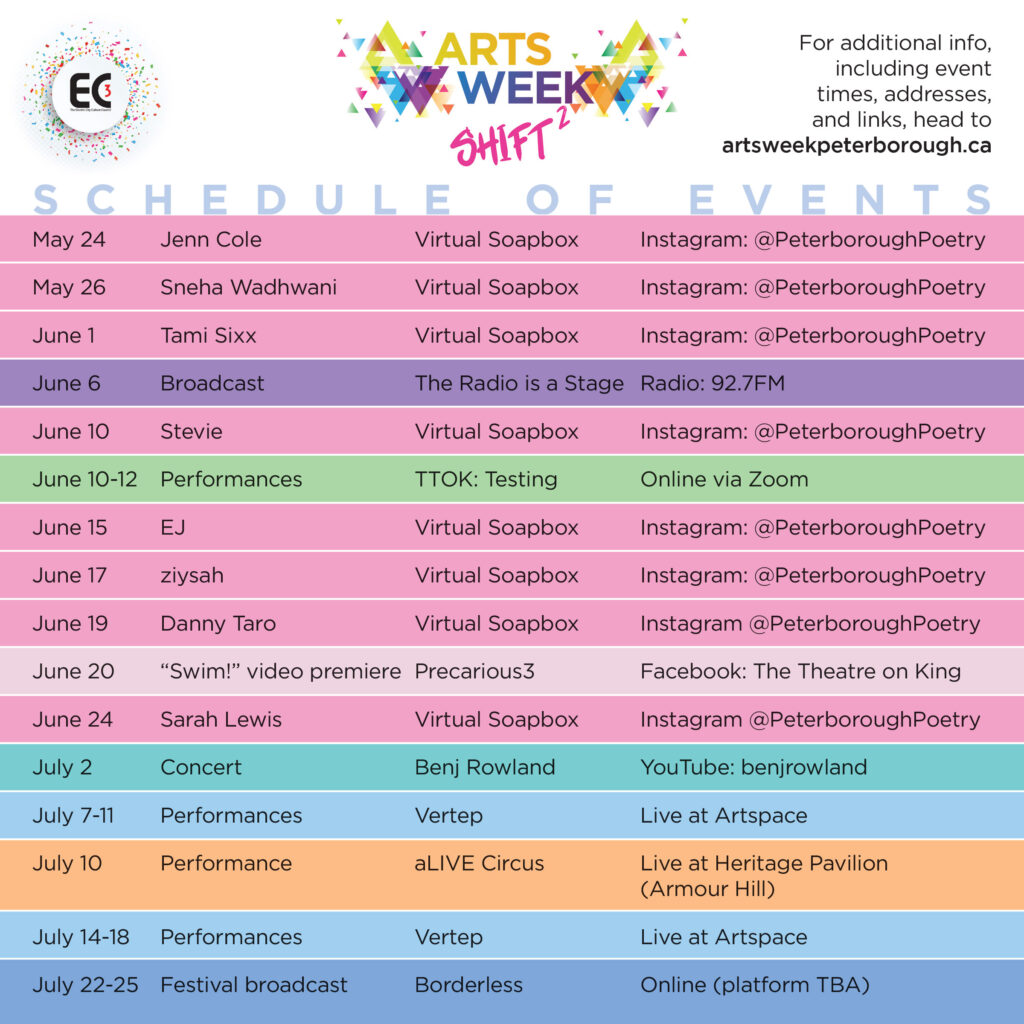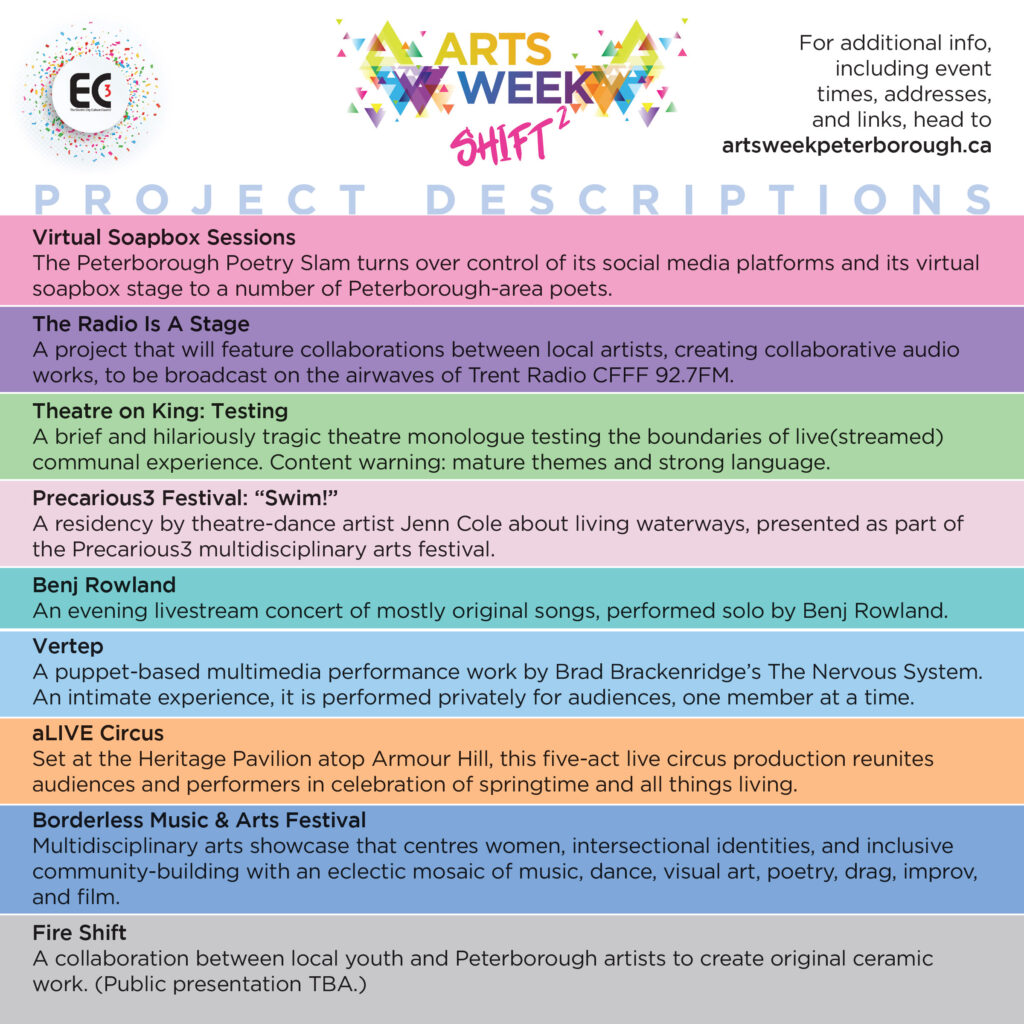 -30-
For Further Information Contact:
Su Ditta
Executive Director, EC3
705 749 9101
electriccitycc@gmail.com
www.ecthree.org