Reopening Updates, Mental Health Supports, Surveys, Grant Deadlines, and More
Hello all,
We hope this update finds you well, as Ontario moves out of its stay-at-home-order and towards reopening. We have a long way to go yet, but it's starting to feel like we are turning the corner towards recovery from the pandemic. And along with that comes a lot of news and updates!
EC3 is constantly in touch with organizations at all three levels of government, as well as arts and culture service organizations locally and across the country, to keep you updated on the latest news relevant to our sector. Quite a number of updates have come across our desk in recent weeks, and so we wanted to bring it all together in a Sector News Roundup.
As always, we encourage everyone to keep checking the EC3 Facebook page, @ECThreePtbo on Twitter, @ec3ptbo on Instagram, and the EC3 website, where we are providing daily updates relevant to our sector.
COVID-19 Shutdowns and Reopenings
As of June 2, Ontario has officially ended its stay-at-home order. Some details have been announced about Ontario's Roadmap to Reopen (read this letter by Ontario Minister of Heritage, Sport, Tourism and Culture Industries Lisa MacLeod about it), however that plan does not come into effect until June 14 at the earliest.
These guidelines can be confusing, especially in this odd 'in-between' stage, but this explanation by Peterborough Public Health's Public Health Promoter Keith Beecroft does an excellent job of breaking it down:
With the expiry of the Stay-at-Home Order, it does mean that from now until the province announces the start of Step 1 of the Reopening plan (likely the week of June 14th), the entire province will remain in Shutdown. A continuation of Shutdown restrictions means that existing measures will remain in place provincewide, including restrictions on gatherings, businesses, services and activities. This includes, but not limited to:
limiting indoor gatherings to households only and outdoor gatherings to up to five people,
maintaining a cap of 25 per cent capacity for essential retail where only certain goods are permitted to be sold,
restricting food establishments to curbside pickup and delivery only,
restricting non-essential retail to curbside pickup and delivery only,
allowing outdoor recreational amenities to remain open, subject to restrictions. No team sports or practices. No activities or games that could pose an issue with physical distancing.
The decline in COVID-19 cases across the province as well as the increase in the number of people getting vaccinated means we are getting closer to the province announcing that we can move into their Step 1 Reopening Plan (expected sometime the week of June 14th). Step 1 will allow more outdoor activities to resume with smaller, well-managed crowds where risk of transmission is minimized. This includes but is not limited to:
outdoor gatherings up to 10 people
outdoor dining up to 4 people per table
outdoor fitness classes and personal training and sports training up to 10 people
essential retail at 25% capacity and can sell all goods (including discount and big box)
non-essential retail at 15% capacity
retail stores in malls closed unless the stores have a street facing entrance
outdoor religious services, rites and ceremonies with capacity limited to permit physical distancing of 2 metres
horse racing, motor speedways without spectators
outdoor horse riding
outdoor pools and wading pools with capacity limited to permit physical distancing of 2 metres
outdoor zoos, landmarks, historic sites, and botanical gardens with capacity limits
campsites, campgrounds and short-term rentals
overnight camping at Ontario Parks
Mental Health Resources
We know this is a challenging time for many, and we encourage anyone who is struggling with mental health right now to reach out. Help is available.
Following the shocking discovery for 215 bodies in the area around the Kamloops Indian Residential School, the Canadian government has also set up a special National Indian Residential School Crisis Line, available 24/7: 1-866-925-4419.
News and Impact Studies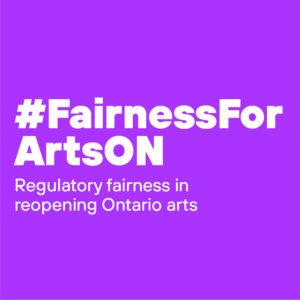 Join the #FairnessForArtsON campaign, organized by the Canadian Live Music Association and supported by arts groups across the province (including EC3), which is demanding revisions to Ontario's reopening plan that would allow performance spaces to safely reopen:
Reopen rehearsals in Step 1 so we can be ready to begin performances in Step 2.
Allow filming inside performance spaces in Step 1 so theatres can deliver content digitally.
Set capacity limits for outdoor and indoor theatres based on square footage so we can maximize safe audience access in different sized venues.
The Department of Canadian Heritage is asking for responses to the Canadian Artists and Content Creators Economic Survey. This survey, created in recognition that the arts and culture sector has been among the hardest hit by COVID-19, will play an important part in determining government arts policy and funding in the months and years to come, as we move towards reopening and long-term recovery. Fill out the survey, or read more about it.
Charity Village recently published a fascinating report, Human Resources Impact of COVID-19 on Canadian Charities and Nonprofits – link, that explores some of the less tangible, more psychological aspects the pandemic has had on organizations. Read their article, While nonprofits remain hopeful about a post-pandemic future, 42% expect further decline in staff morale for an excellent summary.
The federal budget was released back in April, but Mass Culture is encouraging everyone to take part in the Alternative Federal Budget – link. This is an annual project from the Canadian Centre for Policy Alternatives to propose alternatives in many areas, such as reconciliation, taxes, housing, healthcare, childcare, the environment – and culture. Read more about this project and how you can include your voice here.
Cultural Resilience: Using Innovation to Stabilize in Times of Crisis is a new new, multi-year research-action initiative from the Creative City Network of Canada, aimed at discovering dynamic examples of cultural innovation and amplifying these success stories. After the past 15 months of being in the arts during a pandemic, we have no doubt you have stories to share! Contribute your responses here.
Artsweek SHIFT²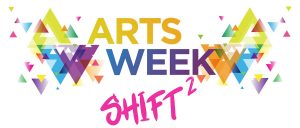 Last week, EC3 was proud to announce the list of 13 artists who received Artsweek SHIFT² Mini Development Grants.
These grants support a wide variety of creative research, production and professional development activities that aid local artists in expanding and advancing their artistic practice and furthering new work, at a time when sales and public presentation fees have all but disappeared due to the COVID-19 pandemic. Projects include the transformation of theatre and dance works into film, music album production, mentorships, and work on new novels from local writers.
Also in Artsweek SHIFT² news, have you seen the Artsweek SHIFT² 'pocket festival' schedule?
June 28 update: An updated version of the schedule has been released. Schedule below is the updated version.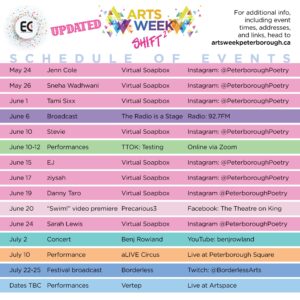 Click to see full resolution.
We encourage everyone to look through this calendar of events and browse the Artsweek SHIFT website for more details. Many exciting arts events are coming to town, both in-person and online, between now and the end of July!
Upcoming Grant Deadlines
Here are some important grant deadlines coming up soon:
---
Please stay well and let us know how we can help.
TRACK THE IMPACT.
As always, keep checking the EC3 Facebook page, @ECThreePtbo on Twitter, @ec3ptbo on Instagram, and the COVID-19 Updates page on EC3's website, where we are providing daily updates on programs and services available for ACH workers and organizations.
Be safe, stay healthy, and please don't hesitate to reach out.
Su Ditta and the EC3 Board and staff
Contact
Su Ditta
Executive Director
Electric City Culture Council (EC3)
electriccitycc@gmail.com
www.ecthree.org
705 749 9101