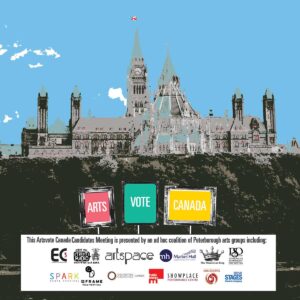 A Candidates Meeting on Arts, Culture, and Heritage in Peterborough–Kawartha
Hello everyone,
It's federal election season, and a key time for the arts, culture, and heritage sector. Many organizations are still under significant threat due to the COVID-19 pandemic, and the next several years will be key to rebuilding our sector better and stronger than before.
That's why EC3 is very glad to announce the return of Artsvote Canada, a candidates meeting in Peterborough–Kawartha specifically about issues relevant to the arts, culture, and heritage community, taking place next Thursday, September 9 at 7:00 to 9:00 pm.
Due to the ongoing pandemic, we aren't able to invite you to join us in person for the meeting at Showplace's Nexicom Lounge, but we encourage everyone to tune in to the simultaneous livestream, which will be on EC3's Facebook and YouTube pages. Several members of the Artsvote Canada 2021 Coalition and a panel of experts will be on hand to ask the candidates questions. There will also be an opportunity for viewers at home to submit questions.
Thanks coalition partners, the candidates, and Showplace Performance Centre!
See full details HERE.