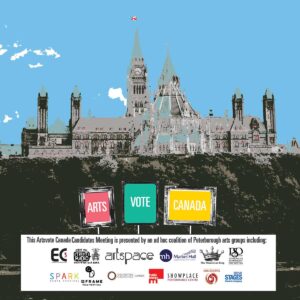 Following up on the Candidates Meeting on Arts, Culture, and Heritage in Peterborough–Kawartha
Hello Everyone,
Thank you so much to everyone who helped make the Artsvote Canada 2021 candidates meeting last Thursday happen, and to everyone who came out to the event, both in the room at Showplace Performance Centre and online on YouTube. It was a lively and thoughtful discussion of the issues that affect the arts, culture, and heritage sector now, and those that will continue to impact the sector for the next several years.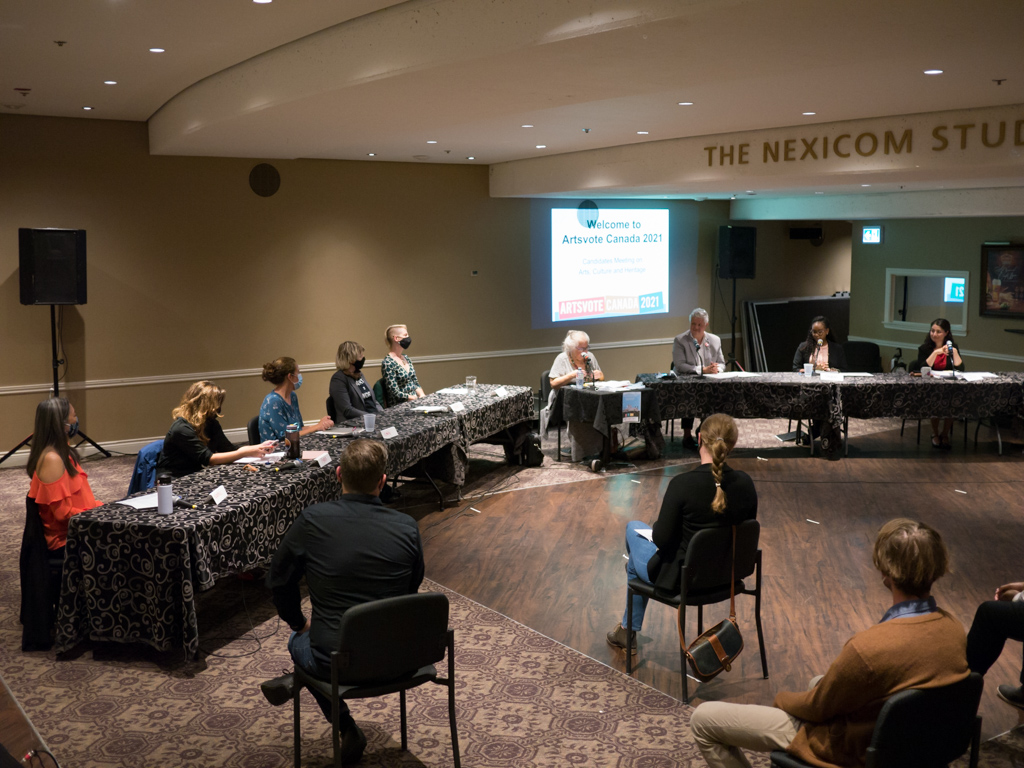 Watch it Again
You can watch a video of the full event on YouTube, or tune into Trent Radio (92.7 FM), who will be airing the meeting in full this week. (Watch our or their social media for announcement of specific times and dates.)
Find out More
Learn more about where the parties stand on the arts and other important issues. Head to EC3's Artsvote Canada 2021 webpage for a number of valuable election resources. Browse the party platforms, look at the comparative analyses offered by the Canadian Arts Coalition and Orchestras Canada, and consider which parties have historically supported the arts.

Thank You!!
We have so many people to thank for Artsvote Canada.
Thank you to candidates Joy Lachica, Maryam Monsef, and Chanté White for agreeing to attend the meeting and for engaging with the arts, and thank you to Michelle Ferreri for her video participation.
Thank you to Nadine Changfoot, Fynn Leitch, Emily Martin, Elisha Rubacha, and Kate Story, for sitting on our panel of experts and for their insightful questions.
Thank you to Showplace Performance Centre for their support, for opening their long-closed doors to let Artsvote in, and for their technical assistance with the livestream.
Thank you to Steve Rose and Mike Morritt for their tireless efforts and their expertise to make the livestream happen.
Thank you to our photographer Andy Carroll, whose photos you can see throughout this Bulletin (full photo gallery here).
Thank you to the members of the Artsvote Canada 2021 coalition: Public Energy, Artspace, Peterborough Singers, Showplace, Market Hall, Trent Radio, The Theatre on King, Orchestras Canada/Orchestres Canada, ReFrame Film Festival, SPARK Photo Festival, New Stages Theatre Company, Peterborough Folk Festival', and Peterborough Musicfest. Your ideas, cross-promotion and energy were absolutely vital.
And thank YOU for attending the event, for asking insightful questions, and for taking arts and culture issues seriously this election season.
Now Don't Forget to Vote!
The federal election is coming this coming Monday, September 20, 2021. Find out your local polling station and what you need to bring along with you on election day, on the Elections Canada website.