COVID-19 Health Regulations Loosening, New Research Projects, Local Home Viewing, Grant Deadlines, and More
Hello Everyone,
Between COVID-19 shutdowns, school closures, winter storms, and pandemic illnesses, it's been a challenging start to 2022! Thankfully, we've made it through January, and starting today, public health restrictions are beginning to ease, and many arts and culture organizations will be able to reopen their doors, at least partially.
This Bulletin provides information on the new provincial COVID-19 health and safety regulations that go into place TODAY, as well as a roundup of arts and culture news and info that's come across the EC3 desk, an updated grant deadlines calendar, and some local viewing recommendations for the "at-home times."
To keep up-to-the-minute on all the latest arts news and EC3 happenings, keep checking the EC3 Facebook page, @ECThreePtbo on Twitter, @ec3ptbo on Instagram, and the EC3 website, where we are providing daily updates on programs and services available for ACH workers and organizations.
Ontario Loosens Public Health Rules
Earlier this month, the Government of Ontario announced plans for a gradual relaxing of COVID-19 public health rules, starting January 31 (today) and continuing in February. Particularly relevant to our sector, as of today, concerts venues and theatres will be able to open at 50% capacity (up to 500 people), and museums, galleries and movie theatres will all be able to open at 50% capacity, with no upper limit.
The government's website has a full list of rules, and you can also read below the latest information from Keith Beecroft, Health Promoter at Peterborough Public Health, sent late last week, which does an excellent job of breaking down the latest version of the rules, as well as rules around vaccine passports, safety plans, and more.
Peterborough Public Health Update
"Good afternoon Arts Community –
We hope your week is shaping up to be a good one….
Last week, the province outlined steps that will be used to gradually and cautiously ease current public health measures. The press release announcing the measures is available here.
We do not have the updated regulations nor the accompanying guidance documents that will guide these reopening steps yet, but it is expected that starting January 31, 2022 the go-to regulation will be O. Reg 364/20. Ministry officials have said that the amendments are being worked on and they should be released sometime this week. (Additionally, this page will be updated when the new Regulations come into force next week: COVID-19 public health measures and advice: Find out about the latest public health measures, advice and restrictions).
Enhanced vaccine certificates with QR codes
In settings that require proof of vaccination, (i.e. live entertainment venues, cinemas, and theatres) patrons must present an enhanced vaccine certificate with a QR code prior to entry. Businesses and organizations must scan the QR code using the Verify Ontario app. The enhanced vaccine certificate is a more secure and convenient way to have your proof of vaccination verified. Vaccine receipts without a QR code are no longer accepted.
Additionally, owners and operators have an obligation to manage lines and reduce 'bottle necks' at their facilities. Communication to all of your user groups about this requirement in advance of January 31 will prevent people from downloading their QR code while they are in line waiting to enter your facility. PLEASE ENSURE YOUR USER GROUPS ARE AWARE OF THIS NEW REQUIREMENT.
As facility owners and operators, it is your responsibility to ensure the Verify Ontario App is being used by your user groups and that everyone entering the facility is doing so by presenting an Enhanced vaccine receipt:
With COVID, and especially the Omicron variant, there is not going to be one single intervention to reduce the risk of infection, but rather multiple layers of protection that are needed. Think of it like a piece of Swiss Cheese – each layer is imperfect, therefore multiple layers of protection are needed: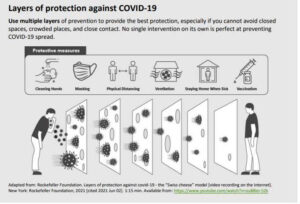 While the specifics of what will and won't be allowed will be outlined in the Regulations, there are some 'basics' that we know will be required – details of which can be found in the attached 'primer'. Please take this time to update your safety plan; much has changed over the last several weeks due to Omicron and your plans likely need to be refreshed.
We know this is scant on specifics – capacity limits, food sales, etc. – but we wanted to give you something to get started with in hopes that you can 'plunk' the specifics in when they are released by the province.
As always, please be in touch if there is anything we can help with.
With continued thanks,
Keith"
Arts Sector News Roundup
Local Home Viewing
On now until February 4, it's the ReFrame Film Festival, Peterborough's annual festival celebrating the best in social and cultural documentaries from Peterborough, Canada, and around the world. As with last year, the festival has moved online this year, which means you can enjoy films from the comfort of your couch. Check out the coverage the festival has received, including film recommendations, in KawarthaNOW and Akimbo.
It's the second edition of 4th Line Theatre's Festival of Light and Dark, an online exhibition of ten five-minute videos by local artists showcasing their work. There's a great lineup of artists prodcuing tremendously varied video works, and it's all available for free on 4th Line Theatre's website and YouTube channel.
For more home viewing, the Peterborough Singers have started an excellent video series, Choral Music History, hosted by Shannon McCracken, exploring the history and variety of choral music. There's three episodes so far, viewable on the Peterborough Singers' YouTube page.
Upcoming Grant Deadlines
Here are important grant deadlines coming up soon:
---
KEEP INFORMED, STAY IN TOUCH
As always, keep checking the EC3 Facebook page, @ECThreePtbo on Twitter, @ec3ptbo on Instagram, and the COVID-19 Updates page on EC3's website, where we are providing daily updates on programs and services available for ACH workers and organizations.
Be safe, stay healthy, and please don't hesitate to reach out.
Su Ditta and the EC3 Board and staff
Contact
Su Ditta
Executive Director
Electric City Culture Council (EC3)
electriccitycc@gmail.com
www.ecthree.org
705 749 9101