Arts Sector News Updates, Local Arts Events, New Video Series, and Grant Deadlines
Hello Everyone,
We hope everyone is getting a chance to enjoy the increasingly warm weather, and taking the opportunity to get out there and rediscover the city.
To assist with that, this Bulletin includes a listing of some upcoming local arts events that we're excited about, along with a selection of news and information resources that affects our sector (locally and nationally), as well as an updated grant deadline calendar and a new EC3 project to celebrate National Poetry Month this April.
To keep up-to-the-minute on all the latest arts news and EC3 happenings, keep checking the EC3 Facebook page, @ECThreePtbo on Twitter, @ec3ptbo on Instagram, and the EC3 website, where we are providing daily updates on programs and services available for ACH workers and organizations.
Arts Sector News and Updates
Listen to the latest episode of CharityVillage's podcast, CharityVillage Connects, Alternative Revenue Options for Canadian Nonprofits, about how Canadian nonprofits are re-examining their business models and seeking alternate funding sources to improve resiliency. Got a grant application coming up? CharityVillage  also offers The five R's of grant writing: Tips for creating compelling applications.
Call for Applications: the Emerging Digital Artists Award (EDAA) is Canada's major award for critical experimentation in digital media. Established in 2015, the annual prize recognizes and celebrates artists working actively and creatively with digital media. The 2022 award includes five $5,000 prizes and a group exhibition at Trinity Square Video (Toronto).
The Government of Canada unveiled the 2022 federal budget earlier this month. Read Mass Culture's initial analysis of the budget, as they work towards the 2022 Alternative Federal Budget for the Arts. Mass Culture has also unveiled the results of their Building an Arts Impact Community Datathon, which collected over 40 resources about measuring the impact of the arts.
The City of Peterborough's 2023 Budget process has begun, with a series of public consultations and an online survey. Have your say about what you think the city should be funding, and what kind of city you want to see. If you live in the Northcrest Ward, public consultations happen April 28, and anyone in the city can fill out the Budget Guidelines survey until April 29.
Jobs! Peterborough Musicfest is hiring for a number of positions for the summer season, including a Host/Event Coordinator, Volunteer Coordinator, Site Supervisor, and setup and teardown crew (details here). Meanwhile, for young people, the Art Gallery of Peterborough currently has two open positions, Curatorial Assistant and Education Assistant, through the Young Canada Works program (details here).
The City of Peterborough's Public Art Program currently has an open call for [Artist-initiated Public Art Projects](https://www.peterborough.ca/en/explore-and-play/public-art.aspx). This call is open to both established and emerging artists, including those interested in expanding their practices into the public realm for the first time. Artists can propose artworks in any scale, scope, and medium in any part of the city. Deadline is May 12.
Throughout the pandemic, Business/Arts have been tracking Canadians' attitudes about returning to the arts through the Arts Response Tracking Survey (ARTS). They recently released the results of the latest survey – watch this video overview, and check out the PowerPoint presentation for all the details.
Local Arts Events
Peterborough Poet Laureate Sarah Lewis is presenting a Spoken Word Poetry Showcase outdoors at the Silver Bean Cafe on May 4 and 6:00pm. This event will feature an open mic, as well as performance by four up-and-coming spoken word poets from Nogojiwanong/Peterborough. Follow Lewis @indigkwe_ on Instagram for updates.
Next month, artists are taking over the former King George Public School in East City as Public Energy presents Erring at King George, a multi-disciplinary arts festival with site-specific art works and performances presented by over 70 artists over two weekends: May 6 to 8 and May 13 to 15. Read all about it in this KawarthaNOW article, and find out more on the Erring website.
Mark your calendar: Peterborough's Artisan Centre is hosting a new event this year, the Fibre Arts Festival, on May 14. Head to the Artisan Centre's website for details.
On May 28, the Peterborough Symphony Orchestra will be joined by Ukrainian-Canadian comedy legend Luba Goy, familiar to CBC viewers across the country as part of the famous Royal Canadian Air Farce, serving as host for a light-hearted Concert of Surprises. This will be the PSO's first concert with a full orchestra since the start of the pandemic. Details on the PSO's website.
National Poetry Month Video Series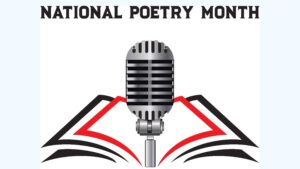 April is National Poetry Month, and EC3 is celebrating with a series of videos by local poets and spoken word artists. Last week we posted the delightful "You're at Home with Justin Million," as well as Sarah Lewis' "More Than a Poem," and watch for an upcoming video by ziysah. Check our social media, YouTube page, or find the videos on our website.
Upcoming Grant Deadlines
Here are important grant deadlines coming up soon:
---
KEEP INFORMED, STAY IN TOUCH
As always, keep checking the EC3 Facebook page, @ECThreePtbo on Twitter, @ec3ptbo on Instagram, and the COVID-19 Updates page on EC3's website, where we are providing daily updates on programs and services available for ACH workers and organizations.
Be safe, stay healthy, and please don't hesitate to reach out.
Su Ditta and the EC3 Board and staff
Contact
Su Ditta
Executive Director
Electric City Culture Council (EC3)
electriccitycc@gmail.com
www.ecthree.org
705 749 9101