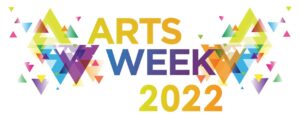 Peterborough, ON – The Electric City Culture Council (EC3) is excited to announce the return of Artsweek, Peterborough's multi-disciplinary festival of the arts, September 23 to October 1, and the seven projects receiving Artsweek Production Grants.
Artsweek is Peterborough's biennial festival of the arts, a nine-day, multi-disciplinary showcase recognizing the outstanding work of local artists and the contribution that the arts make to the quality of life and vitality of our community. Artsweek is a legacy project of the City of Peterborough's Centennial celebrations, and has been produced and presented by EC3 since 2015.
Artsweek brings new work to new audiences in unexpected ways, supports original creation by local artists, and celebrates Peterborough as an innovative, creative community with a vibrant arts scene. Postponed due to the COVID-19 pandemic, Artsweek makes its triumphant return this year.
Artsweek 2022's theme is Art in Unexpected Places. Whether it's mask-making and circus arts in the forest, music, puppetry and projections in downtown courtyards, poetry in the plaza, or a journey of truth and reconciliation along the city's waterways, as always, local artists will turn the whole city into a living stage for music, visual arts, performance and more. All Artsweek events are FREE and open to the public.
Here's a look at just some of what's in store:
Artsweek 2022 Production Grant Recipients
Dark Eyes (Naomi Duvall)
A shadow puppet play about the love story of a woman and an extraterrestrial with live music inspired by the Russian folk song "Dark Eyes," performed outside The Theatre on King.
The Woodland & the Wilds Promenade (Jennifer Elchuk)
Three community events inviting the public to make a mask, fly a banner and join a magical gaggle of woodland puppets, stilt-walkers, and traveling musicians on a celebratory tour of our shared green spaces.
Artsweek Invitational Peterborough Poetry Slam (Jon Hedderwick)
The Peterborough Poetry Slam returns with the first-ever Artsweek Invitational Peterborough Poetry Slam, an evening of in-person, competitive performance poetry.
Construction Guys (Nicole Malbeuf)
A comedy street theatre show for all ages, where a parking lot is transformed into a circus before the audience's eyes.
Reckoning the River (Janette Platana)
Participants take guided tours on a decolonizing walk along the Otonabee River, and then will create a personal booklets of Polaroid photos and text in response. This is a decolonizing project toward reconciliation and will use the Reconciliation Canada Community Action Toolkits and Discussion Guide tools.
Interactive Musical Animations by Benj Rowland (Benj Rowland)
A series of short performances by Rowland consisting of original songs and folk music, accompanied by animated projections of Benj's own creation.
The Verandah Society (Kate Suhr and Megan Murphy)
Bringing all-new storytelling and original music, The Verandah Society leads audiences through our collective pandemic experience, examining how we foster hope and build life after loss.
More Still to Come
Additional projects, and the full schedule of festival events, will be announced soon, including the return of some all-time audience-favourite arts events, along with more new and innovative programming.
Full details about the festival can be found on the Artsweek website, and updates will also be posted on Artsweek's Facebook, Twitter, and Instagram.
EC3 thanks The City of Peterborough, the Peterborough Downtown Business Improvement Area (DBIA), the Ontario Arts Council (OAC), and Canadian Heritage for their generous support in making Artsweek 2022 possible.
The Electric City Culture Council (EC3) is a not-for-profit service organization supporting the arts and culture community in Peterborough and the surrounding region. EC3 provides strategic leadership, research, grants and partnerships that build and strengthen the sector.
-30-
For Further Information Contact:
Su Ditta
Executive Director, EC3
705 749 9101
electriccitycc@gmail.com
www.ecthree.org