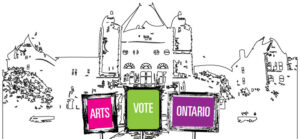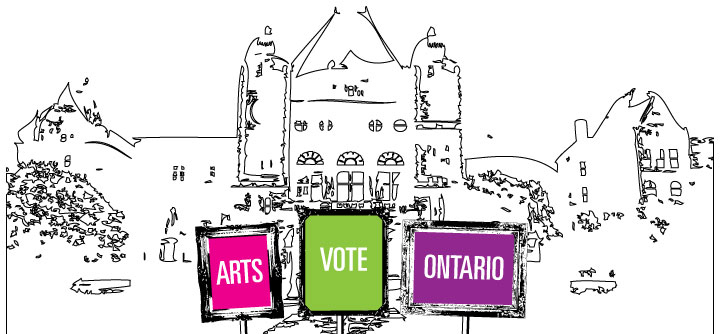 Artsvote Ontario
May 26 at 8:00pm, Showplace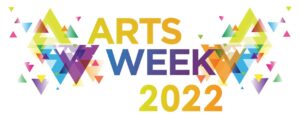 Artsweek 2022
September 23 to October 1, 2022
Save the Dates!
Hello Everyone,
It has been a delight in recent months to see the return of live and in-person art experiences to our city: Public Energy's hugely successful Erring at King George, the ever-expanding First Friday Art Crawl, new music venue Jethro's Bar and Stage opening its doors, the Nogojiwanong Indigenous Fringe Festival next month, and the return of live performance to venues like Showplace, Market Hall, and the Theatre on King – just to name a few examples!
EC3 is pleased to share details of our own upcoming large-scale arts event, Artsweek 2022. The celebrated arts festival makes its triumphant return, September 23 to October 1. Read on for details about that, a save-the-date reminder for Artsvote Ontario, which takes place May 26, and reminders about the Bierk Art Fund Bursary Program and upcoming grant deadlines.
Artsvote Ontario
Artsvote Ontario, the candidates' meeting with a focus on arts and culture issues, returns on May 26 at 8:00pm at Showplace's Nexicom Lounge. This year's meeting brings a new format with a chance to review and rate the responses of provincial candidates to important arts issues and participate in conversations with them about what might make a difference to the local arts scene. Watch for more details on EC3's social media and in an upcoming Bulletin.
Artsweek 2022
Artsweek is a multi-disciplinary showcase that started in 2005, that brings new work to new audiences in unexpected ways, supports original creation by local artists, and celebrates Peterborough as an innovative, creative community with a vibrant arts scene. Postponed due to the COVID-19 pandemic, Artsweek makes its triumphant return this year, September 23 to October 1.
Artsweek 2022's festival theme is Art in Unexpected Places. Whether it's mask-making and circus arts in the forest, music, puppetry and projections in downtown courtyards, poetry in the plaza, or a journey of truth and reconciliation along the city's waterways, as always, local artists will turn the whole city into a living stage for music, visual arts, performance and more. All Artsweek events are FREE and open to the public.
Please see the seven projects receiving Artsweek Production Grants to create events during the festival. Watch for more event announcements, including the return of some all-time audience-favourite arts events as well as more new and innovative programming, coming soon. Follow Artsweek on Facebook, Twitter, and Instagram, and watch the Artsweek website for details.
EC3 gratefully acknowledges the support of The City of Peterborough, the Peterborough Downtown Business Improvement Area (DBIA), the Ontario Arts Council (OAC), and Canadian Heritage in making Artsweek 2022 possible.
Reminder: Bierk Art Bursary Fund
Are you graduating Grade 12 this year? Are you pursuing post-secondary education in the visual arts in 2022-23?
EC3 is once again offering bursaries of $1000 each to two students as part of the Bierk Art Fund Bursary program. Find out full program details [on our website, and apply before the deadline, May 26, 2022 at 11:59pm.
If you have questions about the program, or about how the portfolio review process will work, EC3 is running a Virtual Portfolio Review Workshop this Thursday, May 19 at 7:00pm. Register here.
Upcoming Grant Deadlines
Here are important grant deadlines coming up soon:
---
KEEP INFORMED, STAY IN TOUCH
As always, keep checking the EC3 Facebook page, @ECThreePtbo on Twitter, @ec3ptbo on Instagram, and the COVID-19 Updates page on EC3's website, where we are providing daily updates on programs and services available for ACH workers and organizations.
Be safe, stay healthy, and please don't hesitate to reach out.
Su Ditta and the EC3 Board and staff
Contact
Su Ditta
Executive Director
Electric City Culture Council (EC3)
electriccitycc@gmail.com
www.ecthree.org
705 749 9101