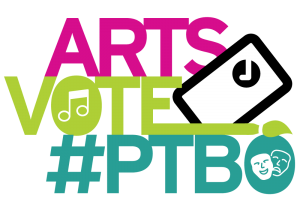 Hello Everyone,
We regret to inform you that the Artsvote Peterborough 2022 candidates meeting, scheduled for October 11, has been cancelled.
Peterborough Public Health has recently raised the COVID-19 Risk Index to 'Very High' and is recommending people avoid indoor gatherings, and EC3 is following this guidance. Due to the design of our event, where the public and candidates sit together at tables to discuss the issues, we feel it is best to make this call. In addition, EC3 staff is currently dealing with illness related to COVID-19, and we don't want it to spread any further.
However, EC3 and the Artsvote Peterborough Coalition still believe it's essential for the arts and culture community in Peterborough to be represented in the municipal election, and we still want to provide an opportunity for candidates to speak on these important issues.
We are currently developing an alternate plan for candidates to speak on the issues that matter to the arts and culture community. More details will be released soon.
Please don't hesitate to contact EC3 if you have any questions or require any further information.