Sarah Lewis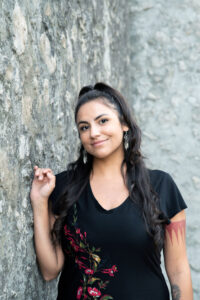 Sarah Lewis (she/her) is an Anishnaabe Kwe (Ojibwe/Cree) spoken word artist, activist, musician, community organizer and mother. She has ancestral roots in Curve Lake First Nation, Ontario as well as Pukatawagon, Manitoba.
She was appointed as Peterborough's inaugural Poet Laureate in 2021-2022, and has been featured on CBC Arts, Global News, and stages across the world. She has been published in numerous anthologies and books and hopes to release her first collection of poems in 2023.
As a huge advocate of the arts, Sarah utilizes her poetry as activism, highlighting the resurgence of Indigenous communities and how Indigenous people are reclaiming their identities, culture, strength and sovereignty. She also encourages other aspiring poets to speak their truth, and to envision a decolonial society where sexism, the patriarchy, capitalism and racism do not exist. Her poetry reminds us to rest, to resist, to question, to choose nature, to choose love and embrace all of our beautiful and complex humanness.