Su Ditta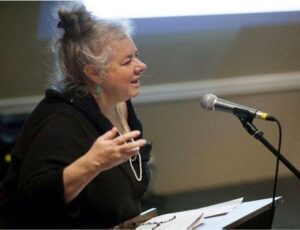 Executive Director
An award-winning curator and distinguished leader in the Canadian art world, Su Ditta has worked in senior management and consulting positions in the arts sector for more than 35 years. An experienced expert in policy and program development, funding and granting, program evaluation and review, governance and organizational capacity building, as well as strategic planning and foresight, Su has worked at all levels of government, with organizations all across the country, in a broad cross section of artistic disciplines, practices and organizational models.
Probably best known for her work as Associate Curator, Media Arts at the National Gallery of Canada and as Head of the Media Arts Section at the Canada Council for the Arts, as well as Manager of Council's organizational development and capacity building program in the Media Arts, Visual and Interarts sectors, she has also worked for the Banff Centre for the Arts in a variety of capacities, as Associate Curator: Media Arts at Oakville Galleries, and as ED of MAYWORKS and the Canadian Images Film and Video Festival. Su has organized exhibitions and public engagement programs at dozens of art galleries and artist-run-centres across Canada, acted as a management and capacity building consultant to more than 30 arts and educational institutions nationwide and been an advisor to several provincial arts councils and federal government agencies including the National Film Board of Canada, Telefilm Canada and the Department of Canadian Heritage.
Su Ditta was a Founding Director and Vice Chair of the Community Foundation of Greater Peterborough, has served on the boards of Artspace and the Art Gallery of Peterborough among others in Ontario, and as Chair and member of the City of Peterborough's Arts, Culture and Heritage Advisory Committee, Co-Chair of the Community Investment and Project Grants Assessment Committee, and as a member of the Public Art Advisory Committee and the Centennial Celebrations Committee.
Born and raised in Toronto, Su studied Political Theory, Cultural and Canadian Studies at Trent University and returned to live in Peterborough in1997 . Su is currently the Executive Director of the Electric City Culture Council (EC3) in Peterborough, Ontario and maintains a small private consulting practice at WILD IDEAS. She is the recipient of a Canada Council Distinguished Service Pin, a Peterborough Civic Award for Cultural Betterment, a Distinguished Alumni Award from Trent University for her contribution to Canadian culture, a star on the Peterborough Pathway of Fame, a Women in Leadership Award and was recently named "Most Valuable Player" on the local cultural scene by Michael Peterman in the Peterborough Examiner.