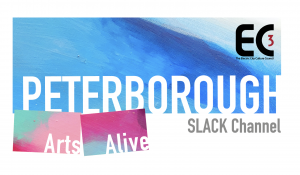 An interview with Alice Olsen Williams by Caroline Langill
On August 18, 2020, EC3 published an interview between Alice Olsen Williams and Caroline Langill as part of Conversations on Art in a Pandemic on SLACK, as part of EC3's Peterborough Arts Alive series of COVID-19 response and recovery programs and services.
An except of the interview is provided below. Listen to the full interview here, and join the original conversation on SLACK.
Alice Olsen Williams: I hardly go out into Peterborough at all, so I can't even go shopping for fabric and stuff. That was a big part of my life before COVID....
I learned how to quilt formally by taking classes, and they talked about how we should use new fabrics, and they had to be 100% cotton. Oh I loved that! But still it was different than the way it was done by women, especially Anishinaabe women. They used clothes that were no longer being worn, such as skirts – you can get a lot of fabric out of skirts. And if we live in isolation, like up north in the Reserves... [which is] sort of like we've been directed to do now, you really try to not get more fabric or buy more thread....
We're taught in schools that certain colours go with certain colours and other colours don't.... But the more colours I use, the more I love it. And then when people see the finished product they are amazed. They say, "Oh I never would have thought of using that colour!"
That's the same with Anishinaabe women making quilts: they use as many colours as they can, as many different fabrics as they can, to put it together. We use so many colours because we have never been restricted.
---
Alice Olsen Williams is renowned for her unique quilted textile works that blend expressions of Anishinaabe beliefs and ideology with reflections on contemporary social issues. Her distinctive style is grounded in the traditional skills of beadwork and sewing of the Anishinaabe people, and the unique symbols and themes of her culture. Alice's creative vision in quilt design focuses on the central placement of animals and birds, which figure prominently in the lives of the Anishinaabeg. She also uses the beautiful floral motifs that Anishinaabe-Kwewag continue to use in their beadwork, quillwork, embroidery and other creative media. Surrounding her central designs are the conventional North American quilting blocks which were introduced by the first European Settlers, and continue to be developed by contemporary quilt artisans. Alice combines the knowledge and appreciation of both her Norwegian and Anishinaabe ancestry with new materials, to syncretize wonderful expressions in cultural meaning, the healing arts and indigenous activism.
Alice was born in Trout Lake, 150 miles north of Kenora Ontario, Canada, in the traditional Anishinaabe territory of her mother's people for millennia, long before Euro-colonization. Even as a child Alice had a delight for fabrics, creating small sewing projects that would later become her passion. She received her teaching certificate from Lakehead University in Thunder Bay and taught there and at Pic Mobert First Nation before moving to Curve Lake First Nation. Alice completed her B.A. at Trent University in Peterborough, and with her discovery of the quilting process in 1980, went on to formulate the concepts which would be the basis for her distinctive style, and to master the beadwork and sewing techniques which allow her to create her meticulous hand-quilted designs. She also keeps extremely busy with her beautiful family of four children, seven grandchildren and one great-grandson!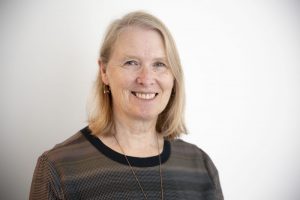 Caroline Langill is a Peterborough-based artist, writer and curator. Langill's interests in non-canonical art histories, gender studies and Indigenous epistemologies have led her to writing and exhibition-making that could be considered post-disciplinary. She is a respected curator, a published researcher in the field of media art histories, and has held administrative and governance positions in a number of artist-run centres.
In addition to a General Studies diploma from Ontario College of Art (now OCAD University), Langill holds an Honours B.Sc. from Carleton University, an MFA from York University and a PhD in Canadian Studies from Trent University. Currently, Caroline holds the position of Vice-President Academic and Provost at OCAD University.