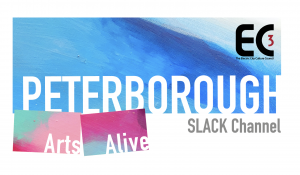 Elizabeth Jenkins' poem "The Bridge"
This poem was originally published on July 21, 2020 as part of Conversations on Art in a Pandemic on SLACK, as part of EC3's Peterborough Arts Alive series of COVID-19 response and recovery programs and services.
Join the original conversation on SLACK.
Elizabeth's poem contains descriptions of sexual harm. If you are a survivor, and would like support, you can contact Kawartha Sexual Assault Centre 24/7 by phone at 1-866-298-7778 and text at 705-710-5234.
All numbers operate 24/7 unless otherwise indicated.
Kawartha Sexual Assault Centre 1-866-298-7778 or text 705-710-5234
Telecare Distress Centre of Peterborough: 705-745-2273
Community and Social Services Help Line: 211
John Howard Society: 1-833-698-9898 (Mon-Thu, 9:00am to 4:30pm)
Four Counties Crisis Response: 705-745-6484 or 1-866-995-9933
Assaulted Women's Helpline: 1-866-863-0571
Youth Emergency Shelter (YES): 705-748-3851
Crossroads Women's Shelter: 1-800-461-7656 or text 705-991-0110
Seniors Safety Line: 1-866-299-1011
Survivors of sexual violence and the people who support them can also find resources at https://survivortoolkit.ca/.
The Bridge
I think there is a bridge that stands between living your life,
and taking your life.
It is made of wood,
stretches high and long,
there is nothingness underneath
I know there is a line between suicide and murder.
That line
for me,
is grey.
This is the face of someone who has spent the better part of the last year fighting.
I want nothing more than to be able to tell the truth when people ask how I am.
I have wanted to be honest in spite of my fear,
I have wanted to scream...
I know there is a line between suicide and murder.
That,
That is what was running though my mind the night he pinned me to the bed.
Secured my wrists with zip ties,
I cried,
I begged to ears that refused to hold my voice.
And and shed tears that would never drown him,
someone help.
I am not sure in what moment it was I lost track of my pulse.
And I don't remember waking up.
I believe there has to be a bridge between living your life, and taking it.
I know that night three weeks ago,
I cracked my chest,
let what remained of my soul out to float around the room,
told her,
"you don't have to be here for this"
In the morning,
I poured what was left into a jar in my shower,
pulled my heart together
I had somewhere to be,
He didn't chase me,
didn't even look up as I pooled down the stairs,
knew I had someone waiting on me,
someone who would come searching if i was not there,
I know there is a line between suicide and murder.
He is always there.
in the last year,
there has been 3 Cracked ribs,
a fractured orbital bone,
a cracked jaw.
Multiple black eyes and rope burn.
I found the bridge when I woke up to a belt around my throat.
Stepped onto it and Closed eyes to unwanted bruises,
and hands on thighs,
I pause in the middle when the threats of assaults the soundtrack of my sleep.
I pulled my body to the railing when Those zip ties tightened.
sleep In a bathtub because it is the only door that locks.
I've gotten used to Dying.
Everytime his hand feathers over cheek,
leaves a mark on my soul,
I bury myself deeper,
I know there is a line between suicide and murder.
But even though i have love in my life,
though my days are filled with ease and comfort,
my nights, he is still there.
Still an unwanted part of life.
I stay silent,
because people don't want to hear a story like this,
from someone like me.
Silent,
Because that cost is too high.
Speaking out,
has never meant safety.
I run from feelings that are foreign.
privilege I am unaccustomed too.
It is unbearable,
because I know it can end all too quickly.
And that cost is too high.
I hold all this in,
drain my pain into the shower grate,
cover bruises so they are not noticed,
Because knowing someone will worry for me is uncomfortable.
Because they will ask me to fight,
This.
Is the face of someone who is so very tired of fighting.
Opens eyes to the mouth of the bridge,
Someone who finds safety in a few people.
Steps onto smooth wood,
stares peaceful into the darkness, ,
This is the face of someone who finds truth in the things her abuser says too her.
The face of someone who can't see a way out,
this is the face of someone,
someone who opens eyes into hatred
I am Tired of fighting.
I have stayed alive a meagre goal.
I want safety.
The but the cost is too high.
I know there is a bridge between living your life,
and taking your life.
I am sure there is a line between suicide and murder.
That line
for me,
is nothing but grey.
Because stay at home safe,
Doesn't always mean my home is safe,
Tonight, If I go home,
and he finally kills me,
what will they call it?
---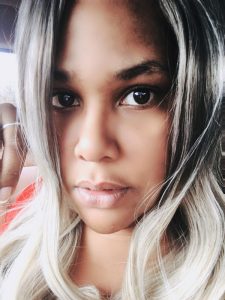 Elizabeth Jenkins is a poet, journalist, spoken word artist and activist based in Peterborough, Ontario. She stepped onto the stage for the first time in 2016 and has enjoyed her time competing and preforming in the local and national spoken word scenes. Her work strives to find beauty in the broken by embracing the hard edges. Elizabeth explores personal traumas, love and her Belizean heritage in her work and uses her particular experiences to shed light on the state experience of race, gender and class struggles in Canada. Through her work, She attempts to invite the audience to share in her catharsis.