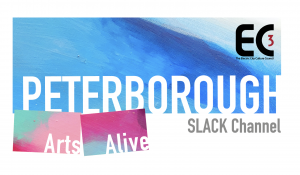 Esther Vincent on Unfettered Creation
This essay was originally published on June 25, 2020 as part of Conversations on Art in a Pandemic on SLACK, as part of EC3's Peterborough Arts Alive series of COVID-19 response and recovery programs and services.
Join the original conversation on SLACK.
How do we encourage an arts community that is rooted in support for local artists and the unfettered creation of work?
I was fortunate to grow up surrounded by the Regionalists of London, Ontario of the 60s, 70s and 80s. This group of artists of all disciplines was focused on working together and separately to create work that was rooted in their immediate surrounding. As Greg Curnoe wrote in 1963, "We are not using regionalism as a gimmick but rather as a collective noun to cover what so many painters, writers, and photographers have used—their own environment…"
This movement was not focused on international or national exposure. It was stridently against the idea that an artist must "make it" in larger centres to be considered valuable. There was no push to expand audiences or create awareness of the value of the arts as a whole.
The focus was entirely on the exchange of ideas, the camaraderie of community and the interpersonal relationships that inspired and pushed these artists to excellence in creating new and interesting work.
In spite of exposure and growth being absent from their non-existent mandate, many of these Regionalists did, in fact, gain international attention and success. As well, this movement spawned the creation of what eventually became a formal network of artist run spaces in Canada many of which still exist today.
The Forest City Gallery was created as a space where artists could gather and show their own work. It was a loose co-op. There have certainly been valid criticisms of this form of organization, however, in this instance, the FCG supported a large number of emerging, mid-career and senior artists in developing a body of work that is still being shown, collected and studied for its place in the history of Canadian art.
Is it time to revisit the cooperative, community model to create an environment in which artists and organizations support each other in the creation and exploration of their work, rather than (or along side) pursuing the competitive granting model, which pits artists against each other, and the academic and entrepreneur based board model, which turns art and artists into case studies and products?
It is time to stop asking artists and creation-based arts organizations to advocate for the arts or to seek out wider audiences and instead, create time and space for artists to putter, to work, and to actively exchange ideas and inspiration with the artists they know best – those in their own community?
Is it possible that the inspiration for interesting and compelling art comes not from the ever present pressure for goal based projects and audience/community outreach but instead comes from artists working together and separately, supporting and pushing each other to create new and better work?
---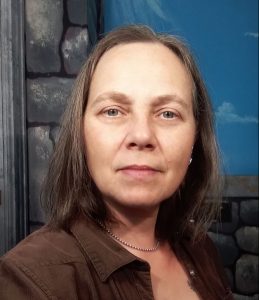 Esther Vincent is a non-genre-denominational artist and arts worker. Her primary modes of expression are photography, writing and design and tech for performance. And her garden, which for her, is a most creative pursuit.
Esther has worked in the arts as a creator, mentor, technician, administrator and entrepreneur for over thirty years. Her work has allowed her to travel across Canada and the northern United States where she has enjoyed learning from artists and artsworkers from diverse communities and disciplines.
She has many ideas and opinions, but often prefers to hear those of others.