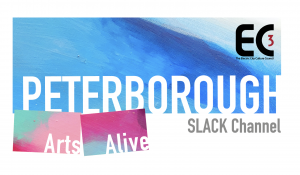 Victoria Ward on physical spaces for art
This essay was originally published on June 30, 2020 as part of Conversations on Art in a Pandemic on SLACK, as part of EC3's Peterborough Arts Alive series of COVID-19 response and recovery programs and services.
Join the original conversation on SLACK.
With so much art moving online during COVID-19, what is the role of physical spaces for art (e.g. galleries, concert venues) in a post-COVID world?
COVID19 has had a scorched earth effect on the entire arts sector in Canada. Artists and arts organizations have scrambled to figure out how to continue to stay afloat in an unprecedented time. But is it? The arts have had to deal with plagues throughout history. We still have the arts… so a virus isn't going to kill off the arts any time soon. I was grateful when people calmed down, the government figured out that CERB had to extend to us and that articles began to appear about how art galleries are in fact the perfect art experience during a pandemic; we all social distance in a gallery as we want to feel alone and special in front of something that parlays an enigmatic, emotional and profound lift to our lives.
Art galleries – spaces for art - are integral to the continued existence of art. They are the content of our civilization's narrative, repositories of what we have made and interpreted and along with museums they help humans realize their potential. In the last ten years much has been made to reinvent their role in our public sphere. Who owns what is in them? Who chooses what goes in them? What are we looking at when we interact with a historical or contemporary object? The public is demanding a different approach to the curation inside the world's museums and galleries. All of this is good stuff. Objects inside both places are there because of our shared history, bad or not. They and their buildings help us continue our quest to enlightenment. Ultimately whose right is it to tamper with the meanings of things in any given age? Time will adjust what these precious gifts from history become to us.
In late May restrictions were being lifted around the world for galleries and museums. I welcomed this since for now we cannot gather in crowds for music or theatre. The stampede to do everything online I feared might vanquish for a time that necessary, tactile, body and emotional experience of being with an object that is full of meaning. Humans are not inert beings; we move, we emote, we can get really messed up and we can burst with joy. Engagement with things is a natural tic. We once picked up a stick and then it became a tool. This is what we do. We are, but mostly we do.
I am grateful that an exhibition we have scheduled for the summer will now be a reality however I still have trepidations about this supposed 'return to normal'. I am forgetting what that was. We had lived, in my lifetime anyway, in an age of neglect. We were ready to give up on institutions, on places that lasted, that were still here a thousand years later. These are art galleries, spaces that house art. I do not mean the discussions on decolonizing but in those discussions, there were those that furthered the point, why have spaces at all? Digital is an inappropriate substitute for a gallery since it is entirely run by profit and advertising oriented platforms; art work resides in a context that positions it on the same spectrum as fast food, shoes, electronics, and various other commodities of modern life that have no meaning, no emotional impact. If it is on a plinth or a wall surrounded by a void, then our imagination takes over.
Publicly funded institutions that house our stories, open to the public to create shared, tactile experiences is why we have become so smart, so industrious, so insightful, respectful and creative. This pandemic has brought so much into focus; our need for shared, respectful experiences that help heal, teach and perhaps inspire. Visiting an art gallery is just that.
---
Victoria Ward is an artist and writer with over thirty years of working professionally in the arts. She has had exhibitions across the country and in England. Ward was also a playwright in Toronto in the nineties and worked with some of the country's finest theatre artists. An active advocate for all things art related Victoria can be found on Twitter @hotspurstudio regularly where she can get a little shouty. She lives in a log cabin north of Peterborough with painter Gary Blundell. Their work can be found at http://hotspurstudio.com/.