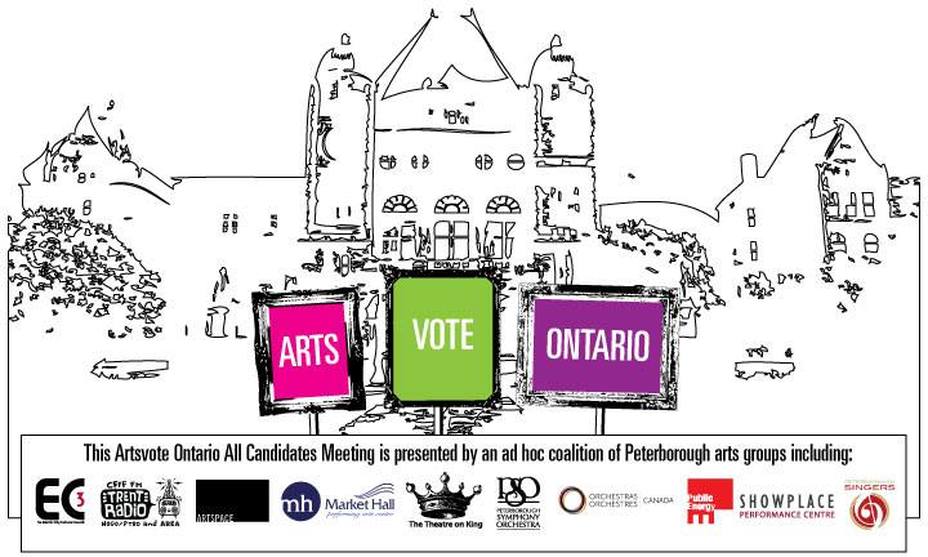 ARTSVOTE ONTARIO 2018
An EC3 Cultural Incubator
Artspace and the Electric City Culture Council (EC3) invite you to attend an
ALL CANDIDATES DISCUSSION on the ARTS.
May 15 2018 @ 8:00 pm
At Artspace, 378 Aylmer St. N., Peterborough
Moderator: Julia Harrison (President, Reframe Film Festival)
Meet the candidates, hear what they have to say about cultural policy and the issues that impact artists, arts organizations and cultural life in Peterborough. Ask questions. Gather information.
Think. VOTE!
FREE!
This event is free and all members of the public are welcome to attend.
This event will be held in an accessible location. Seating is provided.
Please help us to make this a scent free event.
​
Each Candidate will be asked the following questions:
If you are elected, what specifically would you do to advocate for arts, culture and heritage in the
Peterborough-Kawartha riding?
Individual artists and cultural workers make up an unusually high percentage of the workforce in
Peterborough. Yet their average annual income is low in comparison to those in other cities of our size.
What role does the provincial government have a role to play in addressing this? How would you
address this income disparity specifically in the Peterborough-Kawartha riding?
What is your party's stance on investment in the arts through the Ontario Arts Council?
New data from People for Education show that, despite the widely recognized importance of arts
education, equitable access to arts programs and resources is an ongoing challenge for Ontario's
schools. Students in small and rural schools, in schools with higher levels of poverty, and in schools with
lower levels of parental education are less likely to have access to learning opportunities in the
arts. How does your party plan to address this issue and what action would you personally take to
bring attention to it?
Canadian provinces, including Ontario, are significantly implicated in the 94 recommendations of the
Truth and Reconciliation Commission. Action on the recommendations may mean changing how we
think about our current approach to art and culture. What is your party's vision of the province's role in
Reconciliation and its impact on the arts and culture sector?
Questions from the floor
We have allotted time for up to five questions from the floor, carefully moderated by Julia Harrison.
Questioners will be given 30 seconds to pose their questions, and can direct the question either to an
individual candidate or to the entire group. Responses can be up to 1 minute each.
Food for thought
Ontarians for the Arts is a new inclusive, non-partisan movement intent on promoting the benefits of
the arts in every city, community and in every corner of the province. The group has prepared an arts
discussion paper in advance of this election, and you can find it online, here:
http://ontariansforthearts.ca/positions/