Artsvote Ontario 2022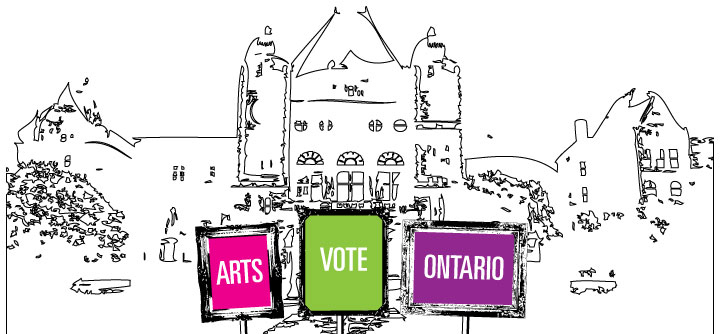 Thursday, May 26, 2022
8:00pm (doors open at 7:30pm)
Showplace's Nexicom Studio (290 George St N)
Free to attend
Masks required
Which party and which candidate is serious about support for the local arts community in the upcoming provincial election?
Do they care about diversity, equity and inclusion? How would they support the Ontario Arts Council? What initiatves do they propose for rural-based artists? Will they work towards a Basic Income Guarantee?
Join us to hear what the candidates know, have to say, and ask them questions and rank their responses to four critical issues facing the arts right now. Your vote really matters in the upcoming election and each party platform has something different to offer in terms of the arts.
Four Questions
Ahead of the Artsvote Ontario candidates meeting, we asked candidates from the four major political parties to submit written responses to 4 questions about the arts. Then, local arts leaders read over their responses, and gave them each a rating between 1 (poor) and 5 (excellent). Here's how they did.
Read the full questions and responses below.
Please note: Progressive Conservative candidate Dave Smith declined to participate.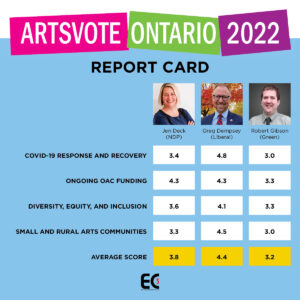 Question 1: COVID-19 Response and Recovery
Preamble
Numerous studies by government agencies' and professional business organizations across the country and around the world have confirmed that the arts sector was one of the most seriously hit by the Covid 19 pandemic. Closed theatres and concert halls, cancelled tours and art exhibitions and book launches meant crashing box office revenues, cancelled tours and loss of artists fees. Venues, arts production organizations and hundreds of thousands of artists have suffered lost income, exposure, staff attrition and they worry about audience, volunteer and donor retention. Precarity became even more acute for individual artists in every discipline and stage of their careers.
At the same time, research indicates that the arts played a critical role in helping people get through the pandemic and was vital to the maintenance of good mental health in such stressful times. Locally, the arts contribute over $100 million in economic investment and spending.
The BC government provided $125,000,000 in Covid 19 relief and recovery funding to the BC Arts Council. Doug Ford's government provided $25,000,000 to the Ontario Arts Council and controlled how it was spent, limiting contributions to grants to individual artists and providing organizational support only to those groups with budgeted of over $1,000,000. This hit the Peterborough arts community hard.
Question
Tell us how your government will support Covid 19 relief and recovery in the arts in the next 2 years. How will you and your government support the COVID-19 recovery efforts of arts organizations and individual artists?
Question 2: Ongoing Funding
Preamble
The current Progressive Conservative government slashed the budget of the Ontario Arts Council by 8%. This means organizations have suffered cutbacks, no matter how outstanding their performance.
Question
What funding policies and programs do you propose to support the ongoing work of individual artists and arts organizations in Ontario? Will you work to establish a base budget of $110 million for the Ontario Arts Council in 2022, up from the current $60 million, to address inflation and cutbacks?
Question 3: Diversity, Equity, and Inclusion
Preamble
Many artists living in Peterborough and Peterborough County (including Curve Lake and Hiawatha First Nations) have experienced decades of systemic barriers, discrimination, exclusion and marginalization in relationship to arts education, creative funding, and representation in leadership and decision making.
Question
What actions would you and your government take to advance diversity, equity and inclusion for marginalized (including artists with disabilities, Deaf and hard of hearing artists), and racialized artists, including BIPOC (particularly Indigenous artists in our area) and 2SLGBTQ+ artists?
Will you support the establishment of a permanent $10 million Indigenous Arts Fund designed by and for Indigenous artists? What would you do to ensure that the policies and programs of all arts and culture agencies in Ontario uphold the provisions of the Ontario Human Rights Code, and that the organizations funded by the Ontario Government are committed to and have the resources and training to do the same?
Question 4: Support for Smaller Municipalities and Rural Arts Practice
Preamble
In the past ten years in particular, we have identified a growing number of serious and successful artists trying to advance their practice here, move here to live and work and try and stay here to continue to work in the arts. Spiralling rents, poor Official Plans, restricted bases for corporate fundraising, weak infrastructure in communications and transportation all pose very serious challenges, despite growing financial support from the municipality and a surge in interested art lovers and supporters.
Question
What special initiatives might you propose to encourage and support sustainable artistic practice in smaller urban centres such as Peterborough and arts activity in rural areas? Will you actively advocate for programs and funding that that increase appropriate capital funding, expansion of digital capacities and other rural specific infrastructure needs?
Don't forget to vote on or before June 2, 2022!
---
Candidate responses
We provided the four local candidates from the major political parties in the provincial election the same four questions about arts and culture policy, and asked them to submit short written responses to the questions (in paragraph or point form) in advance of the Artsvote Ontario candidates meeting. Progressive Conservative candidate Dave Smith declined to participate, but we received responses from the other three candidates.