Bierk Art Fund Bursary Program for Post-Secondary Studies in the Visual & Media Arts
2023 Recipients Announced
The Electric City Culture Council (EC3) is pleased to announce that two $1,000.00 Bierk Art Fund (BAF) Bursaries have been awarded to local high school students, Zijian (Suzanne) Tian (Lakefield College School), and Ava Cummings (Thomas A. Stewart Secondary School). Tian will pursue studies at Parsons School of Design in New York, and Cummings will attend Durham College's Animation Program.
The BAF is an endowment fund at the Community Foundation of Greater Peterborough (CFGP).  It was established to recognize arts champion and supporter Liz Bierk, and to honour the contributions she and her husband, painter David Bierk, made to the arts in Peterborough. Many people, from many walks of life, have contributed to this fund over the years, and it has now grown large enough to support the Bierk Art Fund Bursary Program, which provides two bursaries of $1,000 each to graduating high school students, living in the City or County of Peterborough, whose work demonstrates great promise (artistic merit), and who have a serious commitment to pursuing further studies at the post-secondary level in the visual arts or media arts.
The Bierk Art Fund Bursary Program application process asks students to present their art portfolios to an Assessment Committee/Panel of local artists and arts professionals. This year's panel was comprised of professional artist and educator Cyd Hosker, and AGP Curator Fynn Leitch, who were impressed by the talent and potential demonstrated by Zijian (Suzanne) Tian and Ava Cummings. These bursaries are recognition of their dedication to the visual or media arts, and the artistic merit of their work.
BIERK ART FUND 2023 BURSARY WINNERS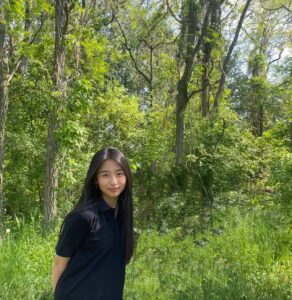 Zijian (Suzanne) Tian was born in Shanxi, China, and continued her high school studies at Lakefield College School. She has been accepted at the Parsons School of Design, and will pursue a Bachelor of Fine Arts degree in their Fashion Design program. Her dream has always been to become an artist. She works in media such as watercolor, 3D print, pottery, photography, collage, and fashion design.
Zijian wants to study fashion because she feels "it is not just about designing clothes, it is a ladder to connect the world, to share ideas; a starting point for spreading equity, inclusion, and social justice; a place of beauty in many forms of expression."
The Assessment Committee/Panel felt Zijian was extremely articulate about her process and the emotional aspect of her art making, and they were impressed by the level of maturity and technique exhibited in the work.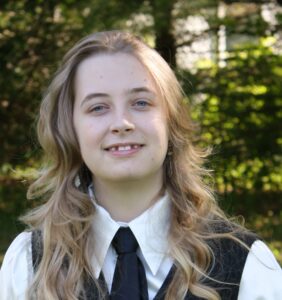 Ava Cummings is graduating from the Visual Arts Program at Thomas A. Stewart Secondary School, and will be attending Durham College for 2D & 3D Digital Animation. Between her love of drawing, and her fascination with animated episodic productions and feature-length movies, Ava feels drawn to the animation industry.
She is excited to continue her education in the arts. "There is nothing more I want to do than draw and be creative." Ava would like to learn animation so that she can bring stories to life, and is "especially keen on character design, storyboarding, and clean-up animation."
The Assessment Committee/Panel was intrigued by her overall portfolio, particularly the strength of her imaginative representation of post-apocalyptic feminist characters.
EC3 is pleased to have this opportunity to support and encourage these young artists and is excited to see what they create as post-secondary students in the visual and media arts.
EC3 would like to thank the CFGP for their generous financial support for the Bierk Art Fund Bursary Program, and our partner the Art Gallery of Peterborough for hosting this project.