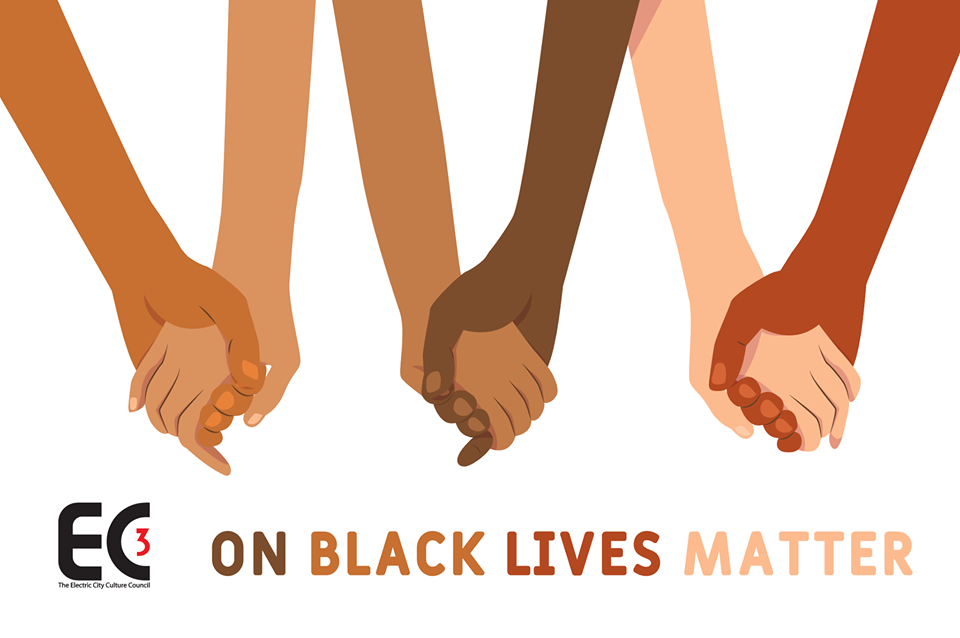 On Black Lives Matter
The Electric City Culture Council stands in solidarity with Black Lives Matter and all those individuals, organizations and communities who demand justice, racial equity and an end to oppression of all kinds. We want to acknowledge the deep pain and righteous anger that so many people are feeling. These are not exceptional circumstances, but reflections and results of systemic racism in our culture and in our political and social structures.
For decades, Canadian artists have opened our eyes to systemic racism and the deep history of colonization that exists in our country. They have investigated, explored and borne witness to it. Artists have created songs, poems, plays, paintings, films, videos, novels and dance to tell untold stories, expose uncomfortable truths and demand change, imagining a better world. Great work - that opens our eyes, our hearts and our minds, that begs us to see, hear, listen and act to make change. Black artists, Indigenous artists and artists from multiple racialized and marginalized communities have exposed injustice, celebrated heroes, taken us deep into the souls of their experience. It's all there, often hard fought for, as opportunity to make and present work was wrestled from closed and recalcitrant institutions protecting their own privilege. But such art work is a triumph, even in pain - a joy. It is our job as cultural leaders to commit and recommit our selves to these artists and the visions they create, to change how we do things, to learn continuously and to be proactive.
So, we commit EC3, along with so many of our colleagues, to doing just that. Please learn more and support causes that matter.
Resources
An excellent article from Articule: "Open letter to artist-run centres in Quebec: Moving Beyond Statements of Solidarity"
And, from our Friends at Public Energy, we are sharing their list of valuable resources:
Public Energy Performing Arts wishes to amplify the voices calling for justice for Black and Indigenous Communities. We want to support the work of organizations combating racism on a daily basis and share resources which combat racism, white supremacy, colonialism, and state-sanctioned violence.
There are actionable things we can do within our own organization, and we will take this time to plan how we can strongly support artists of colour, artistic companies, agents, stage managers, production managers, and administration staff.
We will continue to work harder to better support the voices and performing arts work of artists of colour, indigenous artists, LGBTQ2S+ artists and artists living with disabilities. We need to work harder - and we will. We can do better – and we will.
We encourage you to take action by donating to an anti-racism organization in your community.
"If your conversation about injustice does not immediately yield work, it's the wrong conversation." -Scott Woods, Poet
Opportunities to Act:
• Sign the petition demanding racial data on police involved deaths in Canada
• Sign the petition calling for Justice For Regis Korchinski-Paquet
• Sign the petition calling for Justice for Chantel Moore
Learn More:
• Read the Canadian Public Health Association's statement on Racism and Public Health
• The Alliance for Healthier Communities issued a statement calling for the declaration of anti-Black racism as a public health crisis.
Please consider donating to one of the following organizations:
Donate to Black Lives Matter
Black Lives Matter Foundation, Inc is a global organization in the US, UK, and Canada, whose mission is to eradicate white supremacy and build local power to intervene in violence inflicted on Black communities by the state. Black Lives Matter has put together a resource with links for direct action.
Donate to BLM Nogojiwanong Go Fund Me Campaign
After a successful rally on June 2nd, 2020. The organizers of the march want to use that momentum to keep the BLM movement alive and active in the city of Nogojiwanong/Peterborough. They will be using these funds to first and foremost pay back BIPOC who spent personal money on the day of the rally to ensure we had the supplies we needed. Follow their Facebook page.
Donate to Black Health Alliance
The Black Health Alliance is a community-led registered charity working to improve the health and well-being of Black communities in Canada. Their mission is to reduce the racial disparities in health outcomes and promote health and well-being for people from the diverse Black communities in Canada with emphasis on the broad determinants of health, including racism.
Donate or become a member of the Black Legal Action Centre
The Black Legal Action Centre delivers legal aid services to low and no income Black Ontarians. They work to combat individual and systemic anti-Black racism by providing legal representation, giving public legal information sessions, and engaging in test case litigation, law reform and community development to improve the laws that affect low-income people.
Donate to Black Youth Helpline
The Black Youth Helpline serves all youth and specifically responds to the need for a Black youth specific service, resourced to promote access to culturally appropriate supports for youth, families, schools and other youth serving institutions.
Donate to Community Race Relations Committee of Peterborough
The Community Race Relations Committee of Peterborough (CRRC) is a non-profit community-based organization committed to encouraging and promoting anti-racism and equitable race and community relations throughout Peterborough/Nogojiwanong.
Donate to Thunder Women Healing Lodge Society
Thunder Women Healing Lodge Society is a community-driven project raised out of concern and recognition of the need to break the cycle and support the healing, rehabilitation and meaningful re-integration of Aboriginal women offenders.