Past Cultural Mixers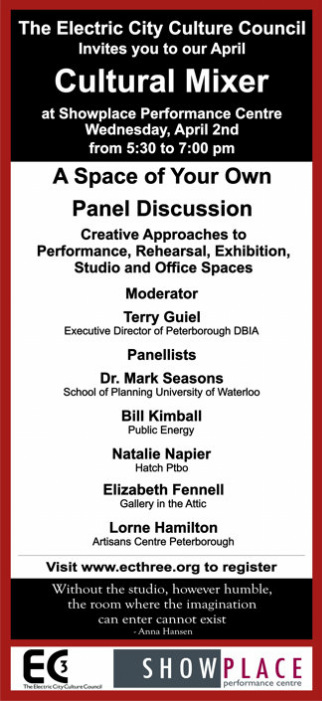 Moderator
Terry Guiel is the current executive director for the Downtown Business Improvement Area. A former councillor for the City of Peterborough from 2003-2006 and a former legal assistant. For over 20 years Terry performed as a professional musician and member of the band Jericho's Wall. Terry has a long history of organizing many events and fundraisers for numerous charitable groups and people in need. The most successful of these was the 2004 Flood Relief Concert that raised $1.56 million for flood victims. Terry is a recipient of three Community Betterment Awards. Terry attended Niagara College where he studied fine arts.
Panellists
Dr. Mark Seasons is a professor with the School of Planning in the Faculty of Environment at the University of Waterloo. Mark's education includes a PhD (regional planning) from the University of Waterloo and a Master's degree in Environmental Design from the University of Calgary. He is a Fellow, Canadian Institute of Planners and he is a Registered Professional Planner. Mark's research interests include downtown revitalization, planning for climate change, and managing slow-growth cities. He is a resident of Peterborough.

Elizabeth Fennell is an independent curator committed to creating opportunities for local artists. A graduate of Trent University (Hon. BA) and Fleming College (MMC), Fennell is owner-operator of Gallery in the Attic (GITA), and founder of the Peterborough Darkroom Project (PDP). Launched in August of 2012, GITA is a member-supported space for the exhibition and sale of locally-made art in all mediums. In 2013 GITA expanded to include a photography community dedicated to reviving the historic Roy Studio darkroom, and keeping the history of traditional photographic production alive in Canada's longest continuously operating darkroom. In addition to GITA and the PDP, Fennell curates community-based projects with partner organizations like COIN (hanging art at the Hatch, ongoing), ReFrame Film Festival (Still ReFrame, 2013 & 14), and Public Energy (Erring on the Mount, forthcoming: May 2014), as well as volunteering with ARTPSACE and Market Hall.
Lorne Hamilton is a member of the Kawartha Woodturners Guild and was involved in the formation of Artisans Centre Peterborough, a non-profit organization dedicated to establishing a permanent centre for artisans in Peterborough. He currently serves as President of Artisans Centre Peterborough.
Bill Kimball - Since graduating from Trent University in 1980 with a degree in Cultural Studies, Bill Kimball has been involved in many aspects of the Peterborough arts community, particularly in the areas of contemporary dance and theatre. He has contributed to the creation of live performance spaces in Peterborough, beginning with City Stage, a performance space operated by Artspace in the early 1980's and continuing to the present with various renovations and improvements to the Market Hall. In 1994 Bill created a nationally recognized dance presenting program called Peterborough New Dance, and later expanded the mandate to theatre and other forms of performance while changing the name to Public Energy, a name which reflects his desire for the arts to be integrated into public life as much as possible. Bill is currently the Artistic Producer at Public Energy.
Natalie Napier has worked in community economic development (CED) and social enterprise for almost ten years, and currently manages Hatch Ptbo, a COIN social enterprise that provides a coworking space and community for social enterprise and innovation. She teaches CED at Trent University. Natalie believes resource-sharing goes beyond economising and reducing waste to laying the basis for tighter knit, more functional communities.