The Electric City Culturecast Reprise
The Electric City Culture Council (EC3) would like to remind everyone that, even as many of Peterborough's arts and culture institutions remain closed due to the pandemic, this is a community rich with talented and insightful artists making exceptional work.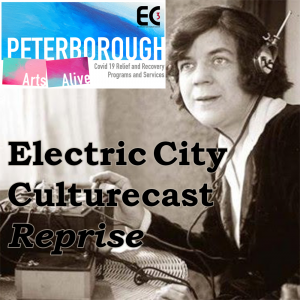 The Electric City Culturecast Reprise is a playlist of clips curated by our Program Coorinator Gabe Pollock from over a dozen interviews with local artists and arts, culture, and heritage (ACH) workers, pulled from EC3's Trent Radio show and podcast, The Electric City Culturecast. On this show, EC3 Executive Director Su Ditta sits down with local artists and culture and heritage workers to talk about their lives, their work, and their ideas about what they do and why.  Listen to the full playlist below.
The Culturecast is currently on hiatus, but The Electric City Culturecast Reprise is a way to open up the archives, and remind people of some of the extraordinary artists and ACH workers in our city. The Reprise is the latest initiative in our Peterborough Arts Alive suite of COVID-19 response and recovery programs.
EC3 would also like to thank Trent Radio, Peterborough Independent Podcasters, Eva Fisher, and Lester Alfonso for their contributions to the Culturecast!
You can listen to the full episodes of The Electric City Culturecast on the Culturecast's website, or by subscribing to the RSS feed.
Click play to listen to the full playlist.  Scroll down to see the full list of clips.