EC3 Flash Forum: Accessing the Media for Non profits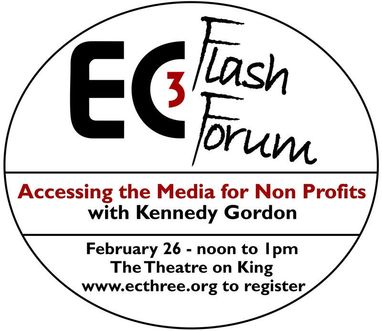 Kennedy Gordon
Managing Editor of The Peterborough Examiner
Accessing the Media
Kennedy's talk will include:
Changes in Modern Media The Mainstream Media vs. Social Media Making Contact Tips and Tricks
Followed by a question and answer period
12:00pm on Thursday, February 26th
Hosted by The Theatre on King
159 King Street,
Suite 120, Peterborough
(in the parking lot behind CRUZ/Wolf)
705-930-6194
This is a free event
Please bring a brown bag lunch
Kennedy Gordon
Award-winning journalist Kennedy Gordon has worked in print and broadcast media for more than 25 years, with a career-long focus on arts and entertainment coverage.
Before being appointed managing editor of The Peterborough Examiner in 2013, he served in a variety of roles at the paper over the past decade, including editor, reporter and columnist. Prior to that, he lived and worked in Sudbury, where he chronicled that city's thriving arts and culture scene for The Sudbury Star, Thomson Newspapers and Southam News Service.
Raised in an artistic, musical household, Kennedy became a journalist after figuring out that he was never going to make it as an artist or a musician, due to a significant lack of talent.