Hill Strategies Research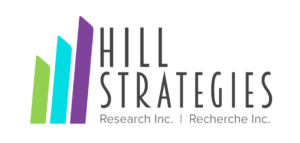 The following is a selection of interesting and relevant research and surveys coming out of Hill Strategies Research.
Hill Strategies is the leading firm providing research on the arts and culture sector in Canada. They publish the regular Arts Research Monitor, as well as a wide variety of studies and papers on such topics as governance, human resouces and workforce trends, diversity and equity, economic impact of the arts, COVID-19 impacts, and more. We encourage everyone who is interested in trends in the Canadian arts and culture sector to subscribe to their weekly Statistical Insights on the Arts newsletter and visit their website regularly.