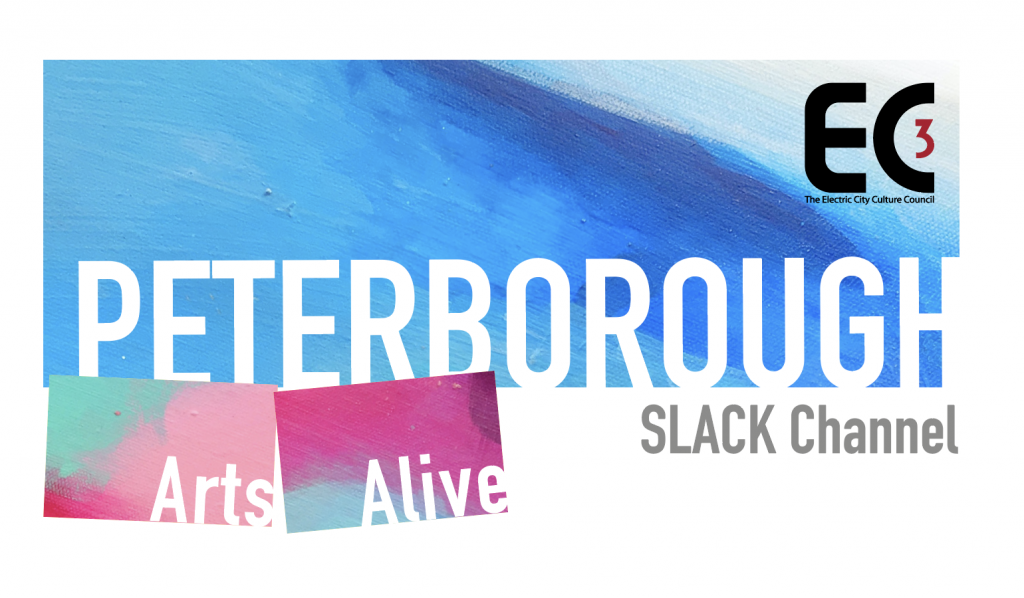 Peterborough Arts Alive on SLACK:
Conversations on Art in a Pandemic
During this crisis, EC3 has heard from artists who sometimes feel they are not being consulted properly or enough when it comes to relief and recovery programs. Others have said they are still trying to figure out exactly what their needs are at this time and what support they need. Others have expressed a basic and urgent desire to reach out and connect with others who are going through similar things as they are as professional artists, citizens and human beings.
Peterborough Arts Alive on SLACK is a new digital space where artists can have these kinds of conversations: speaking about their challenges and opportunities during this strange time, sharing resources and ideas, and helping each other out. This space, which EC3 will be hosting on the social messaging platform SLACK, will be artist-focused and artist-led.

Local artist Christy Haldane will curate and moderate the SLACK discussion workplace. In addition to freeform conversation, every week Christy will post a topical question. EC3 has also commissioned artists Annie Jaegar, Victoria Ward and Esther Vincent to produce micro-essays, to help stimulate conversation and get the ball rolling, and we hope many of you will join in as well.
Join the Conversation: Click this link and sign up for a Slack account. It's free to use, and you can access it through your browser, or through the Slack iOS or Android mobile apps.
Featured discussions
Every week, EC3 commissions a local artist to write a mini-essay to kick off the coversation. All the conversations are archived on their own channel on Peterborough Arts Alive on SLACK. (Note: you will need to sign up for a SLACK account in order to access these conversations.)
June 25: #unfettered-creation-with-ev
Esther Vincent asks, "How do we encourage an arts community that is rooted in support for local artists and the unfettered creation of work?"
June 30: #physical-spaces-
Victoria Ward asks, "With so much art moving online during COVID-19, what is the role of physical spaces for art (e.g. galleries, concert venues) in a post-COVID world?"
July 7: #basic-income-guarantee
Elisha Rubacha asks, "What is a basic income guarantee, and how could it help artists?"
July 14: #reclaiming-the-arts-after-covid
Ann Jaeger asks, "How can artists use the opportunity of Covid-19 closures to reclaim their autonomy and become agents of progressive change within their communities?"
July 21: #safe-at-home
Elizabeth Jenkins offers an original poem on the topic, "What does "home" mean when your home isn't safe during Covid-19?"
Elizabeth's poem contains descriptions of sexual harm. If you are a survivor, and would like support, you can contact Kawartha Sexual Assault Centre 24/7 by phone at 1-866-298-7778 and text at 705-710-5234.
All numbers operate 24/7 unless otherwise indicated.
Kawartha Sexual Assault Centre 1-866-298-7778 or text 705-710-5234
Telecare Distress Centre of Peterborough: 705-745-2273
Community and Social Services Help Line: 211
John Howard Society: 1-833-698-9898 (Mon-Thu, 9:00am to 4:30pm)
Four Counties Crisis Response: 705-745-6484 or 1-866-995-9933
Assaulted Women's Helpline: 1-866-863-0571
Youth Emergency Shelter (YES): 705-748-3851
Crossroads Women's Shelter: 1-800-461-7656 or text 705-991-0110
Seniors Safety Line: 1-866-299-1011
Survivors of sexual violence and the people who support them can also find resources at https://survivortoolkit.ca/.
August 18: #interview-alice-olsen-williams
An interview with Curve Lake textile artist Alice Olsen Williams by artist, writer, and curator Caroline Langill.