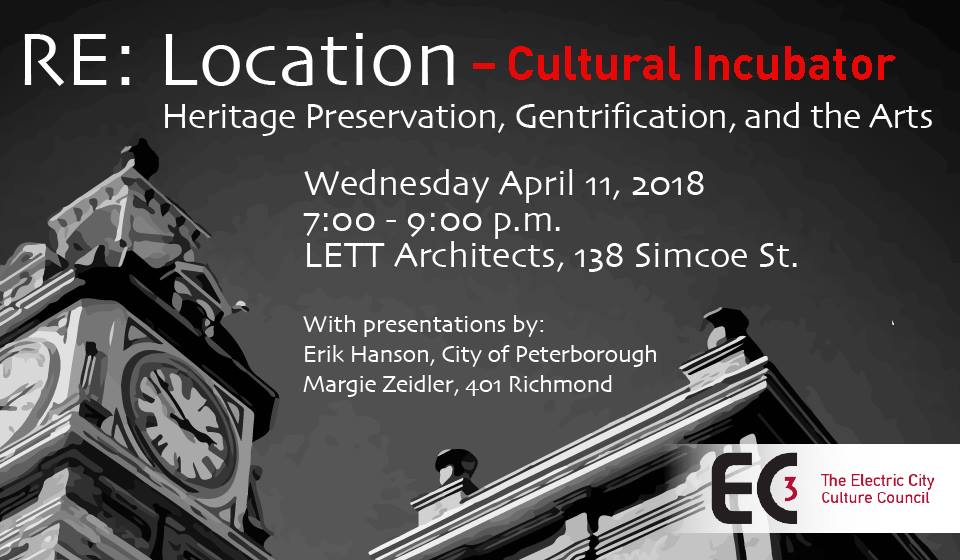 RE: Location: Heritage Preservation, Gentrification, and the Arts
An EC3 Cultural Incubator
Downtown Peterborough: a place rich in architectural heritage and symbolic meaning, a meeting and presentation place for artists and creative workers, a site of cultural production and experimentation, a crucial location for studios and rehearsal spaces, an affordable place to live. As new demographic and development pressures come to bear in the downtown area, fresh challenges and opportunities emerge to preserve and enhance the physical and social fabric of the downtown community. At this critical juncture, this EC3 Cultural Incubator asks:
How can the arts, culture, and heritage sectors work together to support place-based economic development that strengthens, rather than displaces, existing communities?
How can we ensure that our unique arts community and heritage assets are preserved and encouraged as a central aspect of our identity?
Join us on April 11th, 2018 to explore these questions through presentations and discussion with local arts, culture and heritage leaders. The evening will begin with a presentation from Eric Hansen (City of Peterborough) who will discuss heritage preservation processes and trends in Peterborough. Margie Zeidler (Urban Space Property Group) will offer insights from the experience of developing the 401 Richmond site in Toronto.
This event is free and all members of the public are welcome to attend.
This EC3 Cultural Incubator will be held in an accessible location. Seating is provided.
Please help us to make this a scent free event.
Speakers
Erik R. Hanson is the Heritage Resources Coordinator for the City of Peterborough where he oversees the protection of the heritage resources, manages heritage programming, leads major cultural planning projects and coordinates archaeological activity. Mr. Hanson holds a Masters of Science degree in Historic Preservation from the University of Vermont at Burlington, and a Bachelors degree in History from Trent University. In November of 2005, Mr. Hanson was a member of a post-Katrina damage assessment team in New Orleans coordinated by the National Trust for Historic Preservation. Mr. Hanson presents provincially and nationally on issues relating to culture and heritage advocacy through municipal programming and has a personal interest in the value of heritage preservation as a mechanism for social justice and community social well-being.
Margaret Zeidler is the Founder and President of Urbanspace Property Group – a mission-driven developer whose first project: 401 Richmond (created in 1994) contains a vibrant and diverse urban community of artists and cultural entrepreneurs, located in the old garment district of downtown Toronto. Her Robertson Building project (215 Spadina) gave birth to the Centre for Social Innovation (CSI, of which she is a Co-founder) in 2004. She is also the Co-founder of Jane's Walk, Centre for City Ecology and the Urbanspace Gallery.Margie was awarded the Jane Jacobs Prize in 2003, established to honour Toronto residents who are actively contributing to Toronto's vibrancy, the Order of Ontario, and the Best Friend of the Arts Award from Toronto Untitled Arts Awards. She has also received Lifetime Achievement awards from Sustainable Buildings Canada and the Canadian Urban Institute.
This program is presented by the Electric City Culture Council (EC3), a not-for-profit organization serving the Arts, Culture and Heritage sector in Peterborough and the surrounding region.
Event photos by Andy Carroll