Spoken Word Poet Showcase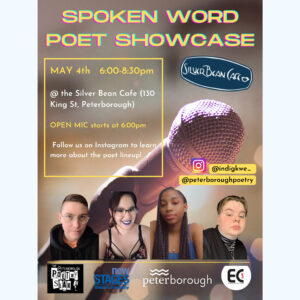 The Silver Bean Cafe
May 4
6:00pm
Come out and listen to four up and coming spoken word poets in Nogojiwanong/Peterborough.
Lewis will be hosting this in-person FREE event at the Silver Bean Café on MAY 4th from 6-8:30pm.
Please continue to keep COVID-19 safety precautions/ protocols in mind.
OPEN MIC starts at 6pm. Please arrive 15 mins before this time to sign up with me, each person is allotted a maximum of 5 minutes.
Follow @indigkwe_ on Instagram for updates.
---
Host: Sarah Lewis
Open mic poets: Rose Katarina Fortin, Laura Jane, Emily Clarey, Julie Edwards, Josh F, Jon Hedderwick, Ruby
Featured poets: Ebelechukwu Laurin Isiekwena, Stevie Lanigan, Thamer Linklater, Bon Scott
Photos by: Andy Carroll