EC3's Cultural Incubator Program Presents:
The Art of Inclusion: Accessibility, Creativity, Disability and the Arts
June 23 2015
11:30 a.m. - 1:30 pm
In the Auditorium at the Peterborough Public Library, Main Branch
345 Aylmer St. North
Lower Level
Join Us for Lunch!
"The Art of Inclusion" brings together a wide range of people working around the issues of disability, culture, accessibility and inclusion. The program will include performance, video work, a Panel Discussion moderated by Caitlyn Costello (Peterborough Council for Persons with Disabilities) and small group roundtable sessions.
Panel Discussion Guest Speakers include:
EM Glasspool: (Mysterious Entity Theatre, Peterborough)
Jes Sachse: (Trent Graduate, Visual/media artist and writer, Toronto)
Eliza Chandler: (Artistic Director, TANGLED Art + Disability, Toronto)
Cara Eastcott: (TANGLED On Tour Coordinator, Toronto)
These speakers bring a rich range of perspectives on the arts and issues of inclusion from questions around physical disabilities to mental health and gender identification. As artists, activists, advocates, programmers, arts administrators and people who identify as living with disabilities, these folks have a wealth of knowledge, information and experience to share.
The "Art of Inclusion" will explore the issues, challenges, opportunities and possibilities that arts organizations, heritage groups and individual artists and cultural professionals need to know about. From practical issues around accessibility to complex questions around curatorial practices, audiences and participant inclusion, this EC3 Cultural Incubator aims to start a conversation and build connections between communities.
If you work in the arts cultural and heritage sector, the disability community or are interested in questions about the construction of "disability culture", want to broaden your understanding of how programming can be developed to be more inclusive, think about terminology, physical accessibility, target audiences, adapting marketing and communications tools and vehicles, then this lunchtime event is a must for you.
New connections, new ideas and ideals at the EC's "The Art of Inclusion".
Accessibility
If you require additional access accommodation please call or email EC3 at 705.768.0797 / electriccitycc@gmail.com.
The library auditorium is accessible via a ramp to the side door and an elevator to the lower level.
"Parking: there are two accessible spots on the street right in front of the main library. In addition, we have an agreement with Shoppers Drug Mart that allows our patrons to use the two accessible spots adjacent to the library sidewalk in their lot (with an accessible permit displayed)."
See the Library website for more info.
We are working to make this event a SCENT FREE ZONE. Please avoid wearing scented products such as perfume, cologne, aftershave, and other fragrances.
Thank you for joining us. We had a great time.
FURTHER RESOURCES
Background Info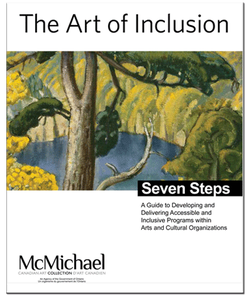 "The Art of Inclusion - Seven Steps."
"The McMichael is sharing guidelines for the programs delivered to help other cultural institutions in their development of accessible programming for special needs. By summarizing its process and results, the McMichael's goal is to support art, educational, and public organizations in implementing programs that serve individuals with special needs."
TANGLED ART + DISABILITY PRESENTATION