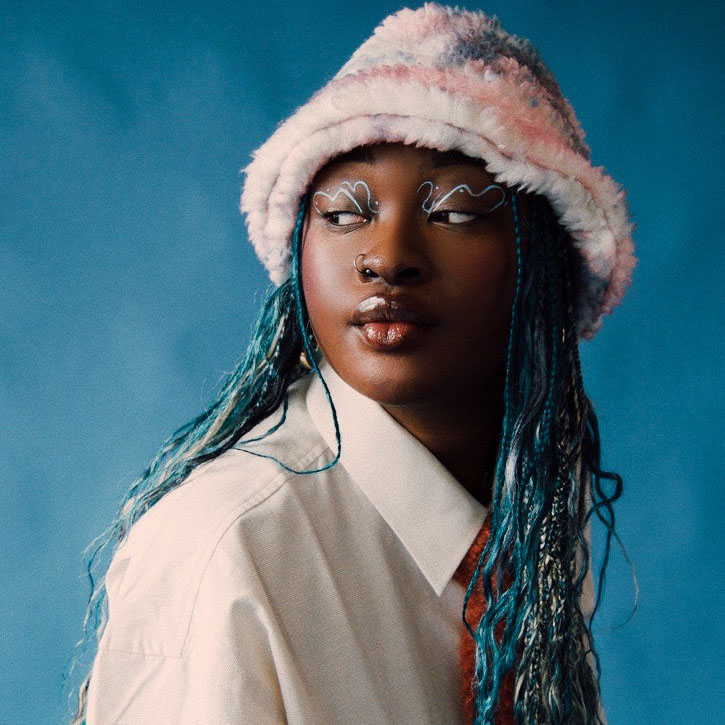 Emem John
In Peterborough, there are not many opportunities given to Black artists. This lack of recognition makes it a real challenge to stand out as a Black woman of colour in terms of creativity. Thus, I have not been able to showcase my poetry. This has been a struggle throughout my stay in Peterborough.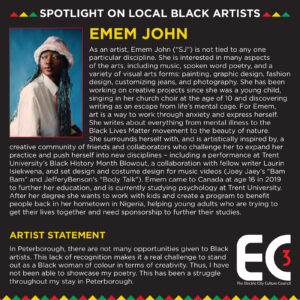 As an artist, Emem John ("SJ") is not tied to any one particular discipline. She is interested in many aspects of the arts, including music, spoken word poetry, and a variety of visual arts forms: painting, graphic design, fashion design, customizing jeans, and photography.
She has been working on creative projects since she was a young child, singing in her church choir at the age of 10 and discovering writing as an escape from life's mental cage. For Emem, art is a way to work through anxiety and express herself. She writes about everything from mental illness to the Black Lives Matter movement to the beauty of nature. She surrounds herself with, and is artistically inspired by, a creative community of friends and collaborators who challenge her to expand her practice and push herself into new disciplines – including a performance at Trent University's Black History Month Blowout, a collaboration with fellow writer Laurin Isiekwena, and set design and costume design for music videos (Joey Jaey's "Bam Bam" and JefferyBenson's "Body Talk").
Emem came to Canada at age 16 in 2019 to further her education, and is currently studying psychology at Trent University. After her degree she wants to work with kids and create a program to benefit people back in her hometown in Nigeria, helping young adults who are trying to get their lives together and need sponsorship to further their studies.