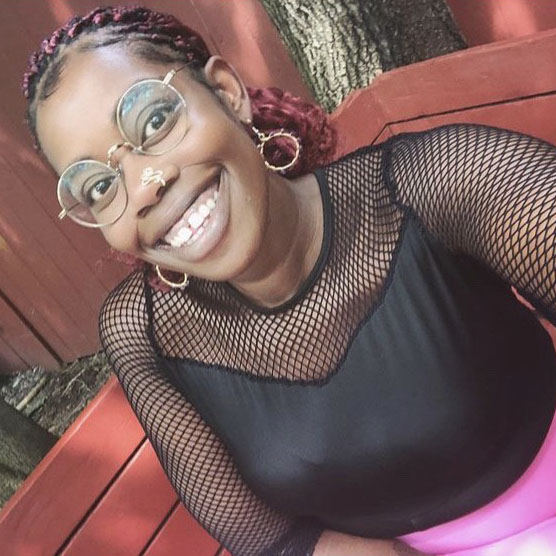 Niambi Tree
Being an artist in Peterborough can be both a blessing and a burden. In some ways being one of the only Black poets in this city offers me opportunities others don't get, but those offers are based on my Blackness as much as they are my art. It's dope to get the gigs – don't get me wrong – but it's exhausting always being the only Black person in the room.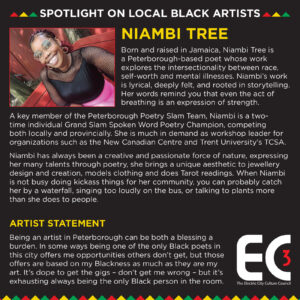 Born and raised in Jamaica, Niambi Tree is a Peterborough-based poet whose work explores the intersectionality between race, self-worth, and mental illnesses. Niambi's work is lyrical, deeply felt, and rooted in storytelling. Her words remind you that even the act of breathing is an expression of strength.
A key member of the Peterborough Poetry Slam Team, Niambi is a two-time individual Grand Slam Spoken Word Poetry Champion, competing both locally and provincially. She is much in demand as a workshop leader for organizations such as the New Canadians Centre and Trent University's TCSA.
Niambi has always been a creative and passionate force of nature. Expressing her many talents through poetry, she brings a unique aesthetic to jewelry design and creation, models clothing, and does Tarot readings. When Niambi is not busy doing kickass things for her community, you can probably catch her by a waterfall, singing too loudly on the bus, or talking to plants more than she does to people.