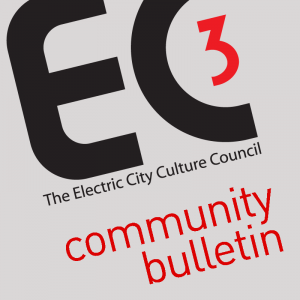 A Message from EC3
Hello all,
We are now in Week 6 of COVID-19's Canadian shutdown. As the pandemic stretches on, and the shutdown shows signs of continuing for quite a while, governments and other organizations continue to release more programs of support for struggling Canadians.
EC3 is working with colleagues across the country, in every discipline and with both governmental and non-governmental organizations, to lobby on behalf of our sector and our local ACH (arts, culture, and heritage) community. EC3 is also developing our own response, through the Peterborough Arts Alive program, and we are closely monitoring the situation to find other programs that could benefit ACH workers.
This Bulletin will provide an update on EC3's Micro Subsistence Grants, the first program in our Peterborough Arts Alive initiative; information on the provincial/municipal Emergency Assistance program that may benefit ACH workers who still don't qualify for CERB; and a roundup of recent announcements from the federal government that could affect artists and ACH workers.
As always, keep checking the EC3 Facebook page, @ECThreePtbo on Twitter, @ec3ptbo on Instagram, and the COVID-19 Updates page on EC3's website, where we are providing daily updates on programs and services available for ACH workers and organizations.
Please stay well and let us know how we can help.
Peterborough Arts Alive: Micro Subsistence Grants for Local Professional Artists
EC3 has released new criteria for our Micro Subsistence Grants program. This program, the first in our Peterborough Arts Alive series of COVID-19 response initiatives, will provide essential funding for local professional artists struggling due to the pandemic.
Please see this page for details.
Municipal/Provincial Emergency Assistance Program
For those who do not qualify for the Canada Emergency Response Benefit (CERB), the Ontario government has announced the Emergency Assistance program. Individuals who have been laid off or who are unable to work due to COVID-19 may receive up to $1,170 and families with two children could receive up to $2,000 for a 48-day period, if eligible.
The program is administered by the Ontario government, but Peterborough City and County residents can get help applying for it through the City of Peterborough's Social Services division. See here for details on the program, and here for information about how the City can help you apply.
Breaking News Roundup
New Assistance for Students
Today (April 22), Prime Minister Trudeau announced a number of programs to benefit students in Canada. Read more here. The new initiatives include:
A $1,250/month benefit for post-secondary students who are unable to get summer jobs from May to August (or who are making under $1,000/month)
Benefits up to $5,000 for students who volunteer during the summer months
Doubling student grants for eligible students
Raising the maximum weekly amount that can be provided by the Canada student loans program
Additional supports for Indigenous students, graduate students, and post-doctoral students
Other Recent Announcements
Here is quick rundown of recent announcements from the Canadian government that could affect artists and ACH workers. See our previous Bulletin for more details on these initiatives.
The Canadian government has announced $500 million for the arts, culture, and sport sectors through Heritage Canada. We are still waiting for details on how this will impact local ACH organizations, but EC3 will update you as we learn more details – read more here.
More people now qualify for the Canada Emergency Response Benefit (CERB), including seasonal workers and people making under $1,000/month – read more here.
The 75% Canada Emergency Wage Subsidy (CEWS) will provide a subsidy of up to 75% of wages for workers at businesses and other organizations (including charities and not-for-profits) who have lost revenue due to the pandemic – read more here.  A calculator to determine if your organization qualifies is available here.
There are a number of extensions to the Canada Summer Jobs (CSJ) program, including increased subsidies and the ability to extend contracts and support past the end of summer – read more here.
The Canada Emergency Business Account (CEBA) provides interest-free loans up to $40,000 for businesses, with up to $10,000 eligible for loan forgiveness – read more here.
There is a deferral for GST/HST remittance that becomes owing on or after March 27, 2020 until the end of June 2020 – read more here.
The Government of Canada is currently negotiating with the provinces and territories on a program to assist with the costs of commercial rental. More details to come.
Reminder: Track the Impact
A reminder to track the impact that COVID-19 is having on your artistic practice and/or your organization. If you can, take a moment to send an email to electriccitycc@gmail.com describing these effects. This information will prove invaluable in demonstrating how COVID-19 has hit the ACH sector, and in advocating for more supports.
Be safe, stay healthy, and please don't hesitate to reach out.
Su Ditta and the EC3 Board and staff
Contact
Su Ditta
Executive Director
Electric City Culture Council (EC3)
electriccitycc@gmail.com
www.ecthree.org
(705) 749-9101
See EC3's COVID-19 Updates page for links to resources and the latest updates from EC3.