Marking the Month
Hello everyone,
June is turning into a very busy time at EC3, as we continue to roll out the events of Artsweek SHIFT², the Respectful Arts Workplace workshop series, and our Spotlight on Local Artists project – among other projects still to be announced!
We will have updates about all of those coming soon, but this Bulletin highlights two important occasions that fall in the month of June: National Indigenous History Month and Pride Month. It's so important to mark these events, and to take time to formally acknowledge the outstanding contributions that Indigenous and LGBTQ2+ people and artists make to our community, our culture and our lives. This is also an opportunity to listen, learn, think and talk about their struggles for equitable and just treatment in our country and our local community.
Indigenous History Month
June is National Indigenous History Month, and June 21 is National Indgenous Peoples Day. This year, these occasions carry extra weight, coming as they do with the discovery of the bodies of 215 Indigenous children on the grounds of the Kamloops Indian Residential School.  This is a sobering reminder of Canada's deeply troubling colonialist history with Indigenous peoples, and the importance of recognizing this history, its long-term consequences, and the need to redress the past.
EC3 is grateful to have the opportunity to work with Indigenous artists and community partners in Nogojiwanong. We value these relationships and the work we do together.
To mark Indigenous History Month, EC3 has put together a list of resources to explore Indigenous art and Indigenous history, and to support Indigenous causes:
Michelle Good's book Five Little Indians is a Governor General Award-winning novel that "chronicles the desperate quest of these residential school survivors to come to terms with their past and, ultimately, find a way forward."
Kent Monkman's "provocative interventions into Western European and American art history" recontextualize classical European art styles to tell the true stories of Canada's history with its Indigenous peoples.
Peterborough-based scholar, writer, and musician Leanne Betasamosake Simpson just released a new album, Theory of Ice, which was just longlisted for a Polaris Music Prize. Simpson uses her art to create "spaces where you can build the alternative, you can dream alternatives, you can amplify certain aspects of things and generate knowledge in a different way."
Graphic novel anthology This Place collects 10 stories by Indigenous creators that tell 150 years of Canadian history from an Indigenous perspective.
Read Bryson Sili'pay's excellent and insightful tips on allyship for non-Indigenous people.
Read CBC's article "Resilience and belonging: 7 artists reflect on National Indigenous History Month."
The Group of Ontario Emerging Museum Professionals has put together an excellent resource list around Indigenous Residential Schools, including helplines and supports, as well as an extensive reading list about the topic.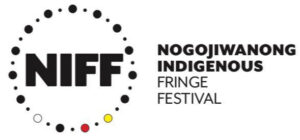 We also wanted to give special mention to the Nogojiwanong Indigenous Fringe Festival, the first-ever Indigenous fringe festival, which is taking place in our community from June 21 to 27. There will be six shows by Indigenous creators over the course of the week, all performed live at Trent University. Tickets are available now. Don't miss this fantastic new festival!
Pride Month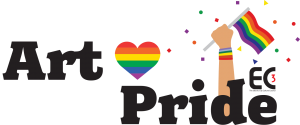 June is also Pride Month across the country, though in town, Peterborough Pride is celebrated in September.  That includes Art Loves Pride, EC3's annual celebration that marks the close interconnections between art and queerness.  Art Love Pride will be back this year, in September, but for Pride Month, we want to encourage you to check out last year's Art Loves Pride events, which took place online and are archived on our website.
Check out "Sturgeon Point," a short story and illustration by Derek Newman-Stille, Take-Out Poetry and accompanying art by Ziysah von B and Ronnie Ritchie, and the gorgeous queer love song "Earned" by people you meet outside of bars.
---
Please stay well and let us know how we can help.
TRACK THE IMPACT.
As always, keep checking the EC3 Facebook page, @ECThreePtbo on Twitter, @ec3ptbo on Instagram, and the COVID-19 Updates page on EC3's website, where we are providing daily updates on programs and services available for ACH workers and organizations.
Be safe, stay healthy, and please don't hesitate to reach out.
Su Ditta and the EC3 Board and staff
Contact
Su Ditta
Executive Director
Electric City Culture Council (EC3)
electriccitycc@gmail.com
www.ecthree.org
705 749 9101