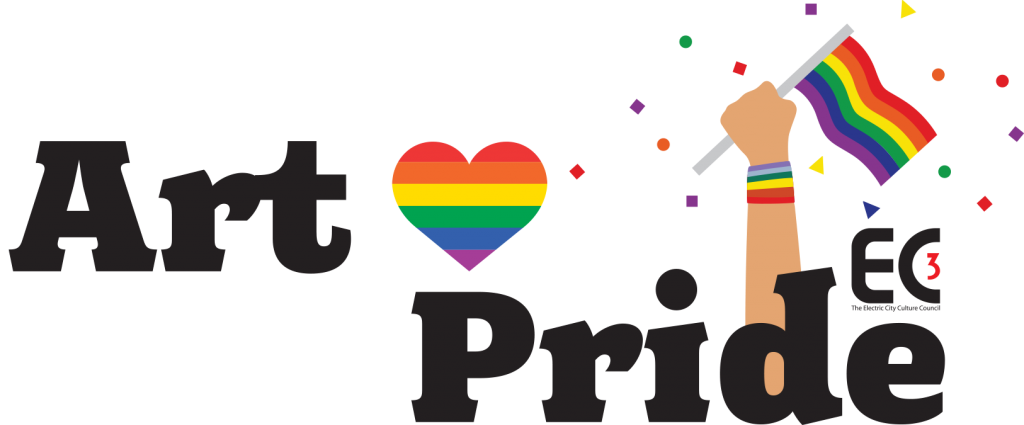 Peterborough, ON – The Electric City Culture Council (EC3) announces the completion of Art Loves Pride 2021, a series of three commissioned works by local 2SLGBTQ+ artists presented on Instagram as part of Peterborough Pride. This year's commissions feature works by three trans/nonbinary and BIPOC artists, Sahira Q, Carlo José Quinones, and Ále Suárez.
EC3 has organized Art Loves Pride as part of Peterborough Pride since 2018, to celebrate the close interconnections between art and queerness and to showcase some of the City's outstanding 2SLGBTQ+ artists and their work. Typically taking the form of a float in the Pride Parade and activities around Pride in the Park, Art Loves Pride has moved to Instagram during the COVID-19 pandemic.
This online version of Art Loves Pride provides an opportunity for EC3 to support and promote some of the city's talented 2SLGBTQ+ artists, to provide a platform for them at a time when many venues for performance are closed off, and to provide audiences with free access to great new art works.
Art Loves Pride 2021 includes three projects that are available on EC3's Instagram page (https://www.instagram.com/ec3ptbo/) and are archived on EC3's website (https://www.ecthree.org/program/art-loves-pride-2021/). Audiences can access them any time, at no cost.
Sahira Q, a quirky yet lovable drag queen and "Peterborough's punk princess," presents a music video lip-sync performance of "Magnets" by Disclosure ft. Lorde as an anthem reclaiming pride and self-worth.
Spoken word poet and visual artist Carlo José Quinones offers "Open letter to Aries (born March 21-April 19)," a poem about slowing down and taking time, accompanied by a self-portrait photo collage.
Musician and expressive arts therapist Ále Suárez performs a cover of "Una Vez Mas" by Ximena Sariñana, a jazzy guitar song with Spanish lyrics, reflecting Ále's personal story as a diasporic child who fuses different cultures within themselves.
If you would like to interview any of these three artists, please contact EC3 Program Coordinator Gabe Pollock (ec3.research@gmail.com).
The Electric City Culture Council (EC3) is a not-for-profit service organization supporting the arts and culture community in Peterborough and the surrounding region. EC3 provides strategic leadership, research, resources and connections that build and strengthen the sector.
-30-
For Further Information Contact:
Su Ditta
Executive Director, EC3
705 749 9101
electriccitycc@gmail.com
www.ecthree.org