Art Loves Pride 2021
EC3's annual celebration of Peterborough Pride returns for another year.  Following COVID-19 health and safety guidelines, EC3 is changing Art Loves Pride from a float in the parade, to a series of commissions by local queer artists to be shared through EC3's Instagram @ec3ptbo.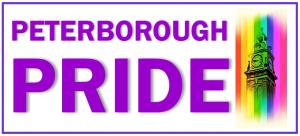 Follow EC3 on Instagram and watch this space for updates.
EC3 gratefully acknowledges Peterborough Pride's contribution to this project.
---
"Una Vez Mas"
by Ále Suárez
As soon as I heard the song "Una Vez Mas" by Ximena Sariñana, I knew I had to learn it. There are major 7 and minor 7 chords that give it a jazzy feel I love and remind me of songs I have written myself. The fact that the song is Spanish also felt aligned for me as I identify as Latinx. As a diasporic child, I love the fusion of different cultures like this song which reminds me of my bi-cultural upbringing having grown up in Chicago the birth place of electric blues and my home life filled with Latin culture from Venezuela. I hope you enjoy my cover of this song as I sit out on my back deck enjoying the last of our warm fall days.
Ále Suárez (they/them) is a Venezuelan-American, Canadian immigrant, multi-instrumentalist, Expressive Arts Therapist, singer songwriter and currently doing their master's of divinity from Luther Seminary. They believe the arts speak the language of our soul, which gives us direct access to our most authentic self. For Arts Loves Pride they chose to sing Una Vez Mas, a song by Ximena Sariñana.
---
Open letter to Aries (born March 21-April 19)
by Carlo José Quinones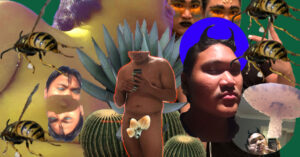 Hello good Aries.
It's good to take the time
But when time is a ticking clock faster than the pace of your heart
Then you must learn how to slow time down.
The earth might move fast but it does not hurry.
Dip in to the depths of water with your head first like how you came out from the womb
Hold your breath a little longer. There is no rush in your lungs anymore. Let panic leave your body.
Leo season reminds us of slow burning coals
Jade embers that sustains fire
Kinetic energy that's of melting and hardening, the cycle that becomes earths core becoming magnetic. Attracting and reflecting the sun.
The beauty of this boundary and balance
This is what that kept us moving
Aries fire, sparkling ignition
You favour the instant
Ease, yes lightning can strike twice
But good bread does not bake in minutes
You can't chase the reaper with an empty cup. Let your grief grieve you.
Empty your bowel not your pocket
Pray to the dead. Know the plants in your neighbourhood.
Lucky numbers 08 56 27
carlo is a graphics designer by craft, baker by heart. based in nogojiwanong, carlo works in the medium of photo manipulation and slam poetry. challenging ideas of beauty, existence, and queerness. carlo is a migrant filipinx, born and raised in Cebu to a caregiver mother and a painter father. carlo is separated from their birthland since year 2012 and long for their return home.
---
"Magnets"
by Sahira Q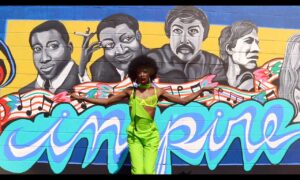 This song is about being the "mistress" of a cheater who usually dates "pretty" people. I wanted to do this song because it can be applied to me in a different lens. Many "straight" men have cheated on their partners with me because they are discreet, down-low, or other – i.e. they usually dated "cis"* or "passing"** people, neither of which I am. This took a negative toll on my mental health and I no longer wanted to be that person. It took me a very long time to choose myself and my happiness, and just say no to these kinds of dudes – men who weren't even ready to question themselves as not straight. The walkout at the end of the video is meant to symbolize me walking away from these cheaters/men.
The bulk of the video is shot in my bedroom and at a mural located at Park St & Prince St in Peterborough, Ontario. I really wanted to incorporate this lovely mural in the video because it's one of the few things I've seen in this city that elevates and supports black artists (musicians). I wanted the aesthetic to be colourful and bold, as that is who I think Sahira Q is. She is quirky, bold, and very colourful.
*cis: short form for cisgender, describes a person whose gender identity matches their sex assigned at birth.
**passing: in the context of gender, passing is when someone, typically a trans person, is perceived as cisgender instead of the sex they were assigned at birth. The desirability of blending into cisgender society is often that of debate within the trans community.
Best known as Peterborough's Punk Pinkcess, Sahira Q is a quirky, yet lovable, drag queen who has performed at various stages, taxi cabs, and local watering holes across southern Ontario. Sahira is a trans-feminine, non-binary, and queer artist who dabbles with all mediums of art, with their newest one being standup comedy. They emigrated to Canada from Zanzibar, Tanzania more than ten years ago but miss the island sun every day.
Outside of drag and art, Sahira is an activist, a gaymer, a community educator, and a graphic designer.
You can catch them next at The Venue opening for Tynomi Banks on October 2nd.
For more information please visit linktr.ee/dragsahiraq.
We do not own the rights to the song used. All rights belong to Lorde and Disclosure and their respective labels.