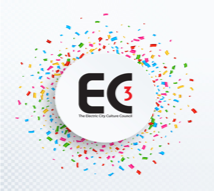 Government COVID-19 Relief Program Extensions, Recent Research, EC3 Programming, Grant Deadlines, and More
Hello Everyone,
It's the end of November, and the countdown to the holidays has begun. It's a busy time in the arts, with more and more arts programming returning to in-person gatherings, combined with the rush to get things done before the end of the year, and beginning work to prepare for the year to come.
This Bulletin provides a roundup of recent news and updates in the arts sector: new announcements about federal COVID-19 relief programs, new studies and research, grant deadlines, and more.
Read all about it in our latest Bulletin. And to keep up-to-the-minute on all the latest arts news and EC3 happenings, keep checking the EC3 Facebook page, @ECThreePtbo on Twitter, @ec3ptbo on Instagram, and the EC3 website, where we are providing daily updates on programs and services available for ACH workers and organizations.
Government of Canada COVID-19 Benefits Updates
The Government of Canada has announced some extensions and updates to its COVID-19 benefits programs. There are a number of programs in here worth examining – including extensions of the Canada Recovery Caregiving Benefit and the Canada Recovery Sickness Benefit – however two announcements in particular may be of interest to local arts and culture organizations.
First, the Canada Recovery Hiring Program (CRHP) is being extended until May 7, 2022. Similar to the dearly departed Canada Emergency Wage Subsidy (CEWS), CRHP is a wage subsidy for employers, but it specifically assists with bringing employees back and increasing employee hours after COVID-19 layoffs and cutbacks. Find out more here.
The government has also announced additional details about the proposed Tourism and Hospitality Recovery Program, a series of wage and rent subsidies up to 75% directed at this particularly hard-hit sector. This remains as proposed legislation at this point, but it looks like it will impact many arts and culture-related organizations, as the program would apply to organizations that are involved in "organizing, promoting, hosting, supporting, or participating in events that meet the artistic or cultural interests of their patrons, including live performances or exhibits intended for public viewing" as well as "preserving and exhibiting objects, sites and natural wonders of historical, cultural or educational value, such as the operation of a museum, a historic and heritage site, a zoo, a botanical garden, or a nature park."
We will provide updates as more details come.
Recent Research in the Arts
A number of interesting research reports have come across our desk recently. Take a look:
Ontario Arts Council Videos for Deaf Applicants
The Ontario Arts Council (OAC) has launched a series of American Sign Language (ASL) videos about the grant application and assessment process. They include information about OAC services and supports for Deaf artists and artists with disabilities. Take a look here.
Send us Your Holiday Events!
EC3 is putting together a calendar of local arts and culture holiday events, for publication in The Peterborough Examiner and in an upcoming Bulletin. If you have a holiday event coming up in December that you would like included, please send along the details to EC3 Program Coordinator Gabe Pollock (ec3.research@gmail.com). In-person and online events welcome, in Peterborough and area.
Reminder: Upcoming EC3 Events
EC3 has two events coming up this week, and you're invited.
Professional Development Workshop:
Tuesday, November 30 at 1pm is There's a New Law in Town: the Ontario Not-for-profit Corporation Act (ONCA), a two-part online webinar for non-profits and organizations considering incorporating as non-profit corporations, presented by EC3 and Community Legal Education Ontario (CLEO).
Part 1: Should You Incorporate? will take you through the rules that apply to you as an unincorporated association, and what would change if you incorporate, the different NFP organizational structures available to you, their pros and cons, and the steps to incorporate, if that's what you decide you want to do. Part 2: ONCA and You will answer questions about the new ONCA legislation and how it will affect reporting, governance, and other issues.
Find out more and register HERE.
AGM:
Thursday, December 2 at 5pm is EC3's Annual General Meeting. It's been an incredibly challenging but rewarding year. Please join us to take a look back, and a look forward! Find out more and register HERE.
Upcoming Grant Deadlines
Here are some important grant deadlines coming up soon:
---
KEEP INFORMED, STAY IN TOUCH
As always, keep checking the EC3 Facebook page, @ECThreePtbo on Twitter, @ec3ptbo on Instagram, and the COVID-19 Updates page on EC3's website, where we are providing daily updates on programs and services available for ACH workers and organizations.
Be safe, stay healthy, and please don't hesitate to reach out.
Su Ditta and the EC3 Board and staff
Contact
Su Ditta
Executive Director
Electric City Culture Council (EC3)
electriccitycc@gmail.com
www.ecthree.org
705 749 9101