There's A New Law In Town: The Ontario Not-For-Profit Corporations Act (ONCA)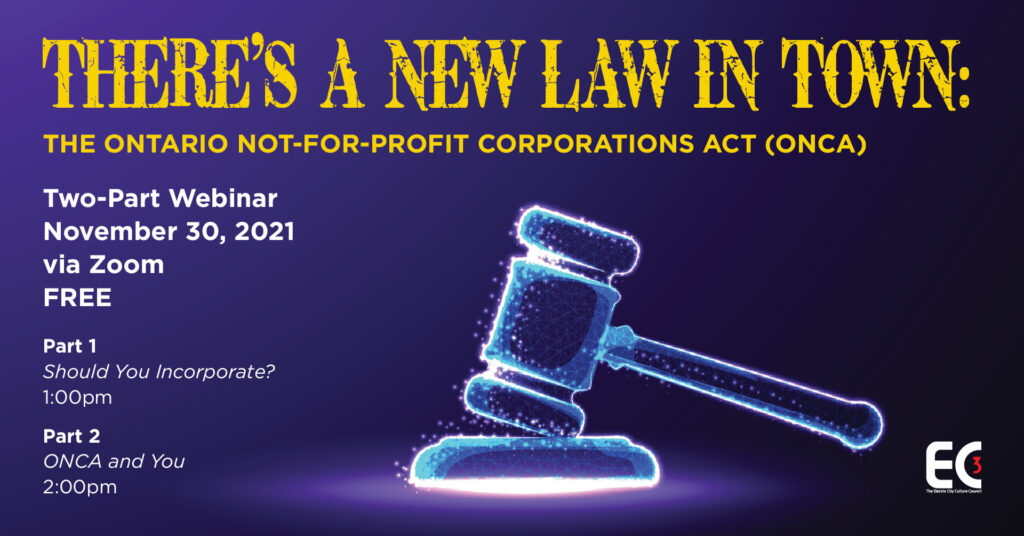 Two-Part Nonprofit Webinar
November 30, 2021
1:00 to 3:00 pm
via Zoom
FREE
Sign up HERE
These free online workshops are must for all Ontario incorporated not-for profit (NFP) arts and culture organizations and charities in Peterborough and those who are considering incorporation.
EC3, working with Community Legal Education Ontario (CLEO), is proud to present a two-part, two-hour professional development workshop for local arts organizations. If you are thinking of incorporating so you can access public funding, etc., check out Part 1: Should You Incorporate? (1:00pm). And Part 2: ONCA and You (2:00pm) will teach you all about the new Ontario Not-for-Profit Corporation Act (ONCA) will impact the legal requirements of managing your status as a not-for-profit corporation for community benefit. Both parts of the webinar will be run by expert guest, CLEO staff lawyer Benjamin Miller.
Part 1: Should You Incorporate? (1:00pm to 2:00pm), is aimed at grassroots organizations (collectives, studios, associations etc.) who are considering provincial NFP incorporation. This hour will take you through the rules that apply to you as an unincorporated association, and what would change if you incorporate, the different NFP organizational structures available to you, their pros and cons, and the steps to incorporate, if that's what you decide you want to do.
Are you a group thinking about incorporating?
Worried about paperwork, control, access to funding, and the future of your organization?
This hour is for you.
Part 2: ONCA and You (2:00pm to 3:00pm), is aimed at incorporated not-for-profit corporations who have questions about the new Ontario Not-for-profit Corporations Act (ONCA). This hour will take you through what is new in the ONCA, steps that NFPs need to take be compliant with the ONCA, and how CLEO's free resources can help you create ONCA compliant bylaws from scratch or adapt your current bylaws. To learn more about the ONCA visit nonprofitlaw.cleo.on.ca.
Are you an organization already incorporated under Ontario's Corporations Act or a special Act?
Will you need to update your bylaws or change your level of annual financial review to comply with ONCA?
Wondering if your board positions and elections process still work, or your reporting mechanisms still fit?
This hour is for you.
Sign up HERE to attend either session (or both sessions). Please note: upon registration, you will be sent a Zoom link and a link to a short survey. Filling out this survey in advance will help us cater the webinar to your specific needs.
Benjamin Miller (he/him) is a staff lawyer on the Nonprofit Law Ontario project of Community Legal Education Ontario (CLEO) where he focused on nonprofit and charity law and policy. Over the past 4 years at CLEO, Benjamin has answered hundreds of nonprofit law questions and developed an online interactive bylaw builder for the ONCA. Benjamin also works at the Ontario Nonprofit Network and has worked at the Canada Revenue Agency in the past. Benjamin holds a JD and MPP from the University of Toronto and an MA in political theory from the University of Ottawa.
Since 1974, Community Legal Education Ontario / Éducation juridique communautaire Ontario (CLEO) has developed clear, accurate, and practical legal rights education and information to help people understand and exercise their legal rights. Our work focuses on providing information to people who face barriers to accessing the justice system, including income, disability, literacy, and language. As a community legal clinic and part of Ontario's legal aid system, we work in partnership with other legal clinics and community organizations across the province.
The Electric City Culture Council (EC3) is an arm's-length, not-for-profit service organization supporting the arts and culture sector in Peterborough and the surrounding region. EC3 provides strategic leadership, research, funding and connections that build and strengthen the sector.
Resources
DISCLAIMER: Nothing below is meant as or should be understood as legal advice tailored to your situation. It is only general legal information. When confronting particular situations, consult your own legal counsel as appropriate.
The information contained in the webinar recordings and PowerPoint presentions are accurate as of November 30, 2021.