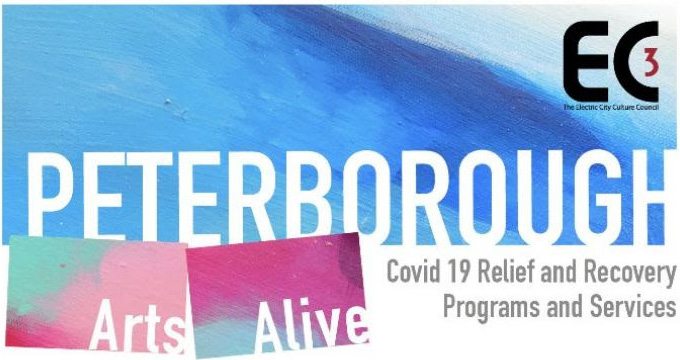 EC3 COVID-19 BULLETIN #14
Announcing Two New COVID-19 Programs and Services: Peterborough Arts Alive on SLACK and the Digital Uplift Program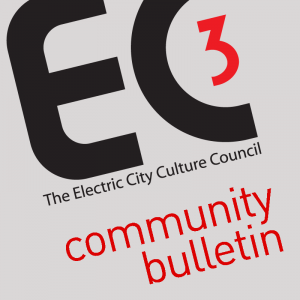 June 17, 2020
A Message from EC3
Hello friends,
As the COVID 19 situation around the world continues to develop, the Electric City Culture Council (EC3) has been speaking to arts, culture, and heritage (ACH) workers and organizations, artists, and other stakeholders about how best to serve our community.
Through these discussions, EC3 continues to roll out Peterborough Arts Alive, our suite of COVID-19 response and recovery programs and services. Earlier this month, we announced the Peterborough Arts Alive Fund for Strategic Recovery and Resilience Grants for organizations (read more here).
Today, EC3 is excited to announce two more initiatives: Peterborough Arts Alive on SLACK is a new, artist-led, artist-focused digital space for peer to peer discussion on the social messaging platform SLACK, and Digital Uplift provides free consultation sessions about all things digital (technical skills development and advancing on-line presence) or local artists arts, culture and heritage organizations.
Read on for more information about both initiatives.
Peterborough Arts Alive on SLACK
During this crisis, EC3 has heard from artists who sometimes feel they are not being consulted properly or enough when it comes to relief and recovery programs. Others have said they are still trying to figure out exactly what their needs are at this time and what support they need. Others have expressed a basic and urgent desire to reach out and connect with others who are going through similar things as they are as professional artists, citizens and human beings.
Peterborough Arts Alive on SLACK is a new digital space where artists can have these kinds of conversations: speaking about their challenges and opportunities during this strange time, sharing resources and ideas, and helping each other out. This space, which EC3 will be hosting on the social messaging platform SLACK, will be artist-focused and artist-led.

Local artist Christy Haldane will curate and moderate the SLACK discussion workplace. In addition to freeform conversation, every week Christy will post a topical question. EC3 has also commissioned artists Annie Jaegar, Victoria Ward and Esther Vincent to produce micro-essays, to help stimulate conversation and get the ball rolling, and we hope many of you will join in as well.
Join the Conversation: Click this link and sign up for a SLACK account. It's free to use, and you can access it through your browser, or through the SLACK iOS or Android mobile apps.
Digital Uplift
[Update July 23, 2020: Please note that registration for Digital Uplift is now full. Thanks to all the participants!]
Right now, many artists and arts and culture organizations are recognizing the need to get online in a more robust way and improve their digital capacity. Through EC3's new Digital Uplift program, individuals and ACH organizations can sign up for free, minimum, one-hour consultation sessions with digital marketing specialist Sofie Andreou of 123DigitalPower. Some of you have already worked with Sofie as part of the DBIA's very successful Digital Main St. program.
These one-on-one sessions, which will take place over Google Meet, Zoom, or by phone, will be tailored to the specific needs of the particular individual or organization, whether that's establishing or improving an online presence, selling products online, improving digital workflow, or whatever else the participants need. Andreou will assist participants with defining their specific digital needs, and will offer strategies, solutions, services, and products to help them achieve them.
Here are some of the areas where Digital Uplift can provide advice and assistance:
Digital strategy
Putting products/activities online
Putting menus online
Google my business
Selling online
Video or photo techniques
Simple websites
Virtual social media help
Virtual social media training
Virtual team meetings steps
Setting up virtual services
Online scheduling tools
Online gift certificates
Online contests
Sign Up for This Free Program Consultation: To sign up, click this link and book a free session. Appointments are available until July 30, 2020.
---
Please stay well and let us know how we can help.
TRACK THE IMPACT.
As always, keep checking the EC3 Facebook page, @ECThreePtbo on Twitter, @ec3ptbo on Instagram, and the COVID-19 Updates page on EC3's website, where we are providing daily updates on programs and services available for ACH workers and organizations.
It's a tough time for sure. Everyone is feeling the pressure. Hope these tools help along the way. Be safe, stay healthy, and please don't hesitate to reach out.
Su Ditta and the EC3 Board and staff
Contact
Su Ditta
Executive Director
Electric City Culture Council (EC3)
electriccitycc@gmail.com
www.ecthree.org
705 749 9101