EC3 COVID-19 Bulletin: Local Programs Helping Artists and Arts Organizations Get Online
Gift Certificates, Listings, Online Advantage Support and More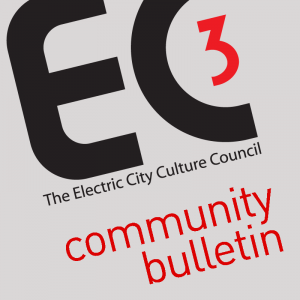 May 12, 2020
A Message from EC3
Hello all,
During these strange times, it can be a struggle for many organizations to reach their audiences, and, needless to say, it would be really helpful to get some cash flowing.
EC3 has been working with the DBIA, and the Chamber of Commerce to make sure local arts organizations can take part in many of their initiatives to support local groups stay in touch and connect with their audiences. EC3 has worked closely with these organizations to ensure there is space in these programs for artists and ACH (arts, culture, and heritage) organizations.
Locally, the Greater Peterborough Chamber of Commerce, the Peterborough Downtown Business Improvement Area (DBIA), and Peterborough & the Kawarthas Economic Development have stepped up with programs to assist local businesses and organizations with getting online and getting noticed online.
This Bulletin provides an update on these programs and how you or your organization can take part. (And, of course, if you're interested in supporting local business and organizations yourself, follow the links below and lend your support.)
As always, keep checking the EC3 Facebook page, @ECThreePtbo on Twitter, @ec3ptbo on Instagram, and the COVID-19 Updates page on EC3's website, where we are providing daily updates on programs and services available for ACH workers and organizations.
Peterborough Chamber of Commerce Gift Card Program
The Greater Peterborough Chamber of Commerce's new Gift Card Program, run through FanSaves Helps, serves as a central hub where people can support Peterborough and area businesses and non-profit organizations by purchasing gift cards and offering donations.
Participants can offer gift cards to be redeemed for event tickets, merchandise, or any other goods or services your organization provides. The program can also be used by organizations without purchasable goods or services, to receive donations.
This program is open to Chamber members and non-members alike.
Here are the steps to register:
Fill out the online form.
Please choose "Greater Peterborough Chamber of Commerce" as your "Organization or community to be featured under."
In the "Notes" section, please include a sentence about what your organization does AND a sentence about what this donation will be used for if appropriate.
Your gift certificate will appear on the Greater Peterborough Chamber of Commerce FanSaves Helps website.
Once a gift certificate is purchased through the website, the buyer will receive a digital gift certificate with a unique code that will be tracked for you in a spreadsheet (which you will have access to).
Any money received on your behalf will then be transferred to you via Direct Deposit or e-transfer within 14 days (minus any credit card transaction fees that may come off the top).
You can then keep track of the balance however it works best for you and can issue a tax receipt.
If you have any questions, please contact Siam Grobler, Member Relations at the Chamber at siam@peterboroughchamber.ca.
Peterborough DBIA's SupportDowntownPtbo.ca and TheBoro.ca
The Peterborough Downtown Business Improvement Area (DBIA) has also set up a gift certificate program, through the website SupportDowntownPtbo.ca.
Any DBIA member can apply to be listed, and so can anyone who falls within the DBIA mandate – being anyone who leases or owns commercial space in the downtown. The DBIA has confirmed that this includes not-for-profits, artist studios, etc. as well as for-profit businesses.
In addition, the DBIA has set up a new site, TheBoro.ca, which serves as a central directory listing for local businesses either selling goods online during the pandemic (including any gift certificates set up with either of the above program), or who are streaming events online. The same rules apply for membership as above.
For more information about either of these programs, please contact Joel Wiebe, Communications Manager at the DBIA at joel@downtownptbo.ca.
Digital Main Street
The DBIA, in partnership with Peterborough & the Kawarthas Economic Development, are bringing back Digital Main Street. This program offers free online consultancy sessions with digital marketing specialist Sofie Andreou. Andreou can assist with setting up a website or online store, digital marketing, social media management, improving Google search rankings, and other online services. Andreou is available throughout the month of May, but sessions are booking up fast.
This program is available to anyone – businesses, non-profits, charities, or individuals – with digital marketing needs in Peterborough City or County.
Book an appointment through 123 Digital Power.
And if your organization does set something up online that EC3 can help signal-boost, please let EC3 know and share the link with us, so EC3 can promote it through our website and social media channels.
Please stay well and let us know how we can help.
TRACK THE IMPACT.
Be safe, stay healthy, and please don't hesitate to reach out.
Su Ditta and the EC3 Board and staff
Contact
Su Ditta
Executive Director
Electric City Culture Council (EC3)
electriccitycc@gmail.com
www.ecthree.org
705 749 9101