Tax Time for Artists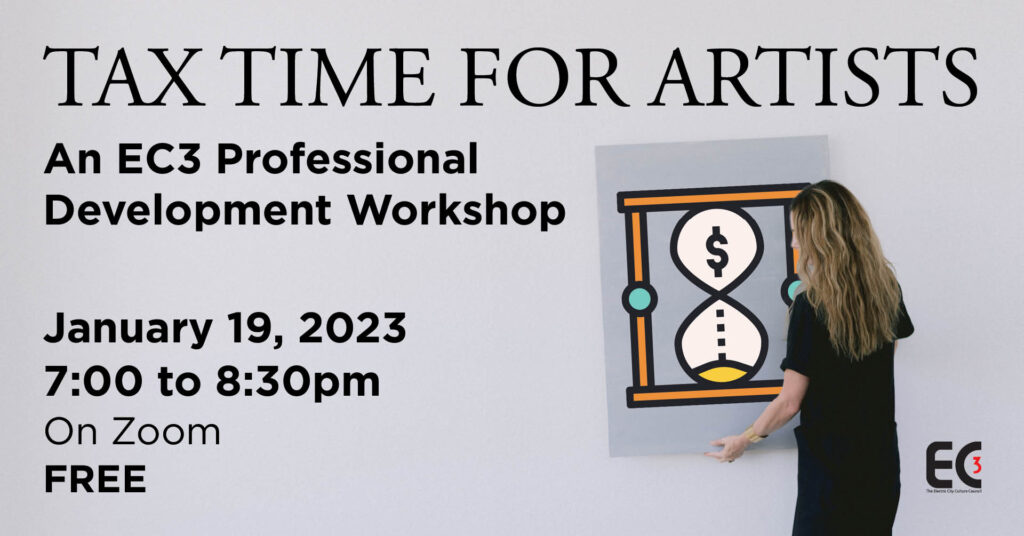 Thursday, January 19, 2023
7:00 to 8:30pm
On Zoom
Free to attend
Tax season can be stressful, especially for artists. How do you report income if you're self-employed? How do you handle grants? Union dues? Inventory? CERB/CRSB payments and other government COVID-19 benefits? This workshop is for you!
EC3, working with Artbooks, is proud to present Tax Time for Artists, an online professional development workshop to assist artists through this complicated time of year. Artbooks tax preparer Tova Epp will discuss what artists should collect and track throughout the year, how to prepare for tax season, GST/HST, bookkeeping softwares and more. The workshop will include a 60-minute presentation, followed by a 30-minute Q&A session. EC3 has received many requests for a workshop like this, and Artbooks presents these workshops in municipalities across the country and comes highly recommended.
Ease the pain of tax time with this workshop!
Tova Epp is a tax preparer/actor/wildlife rehabilitator. She's been working at Artbooks for over 13 years doing the taxes of many diverse artists. Tova graduated with a BFA-Distinction from Concordia University. When she's not at Artbooks she can be seen at one of her many other jobs around the city, or auditioning for yet another commercial.
View a recording of the full workshop: