National Day for Truth and Reconciliation 2022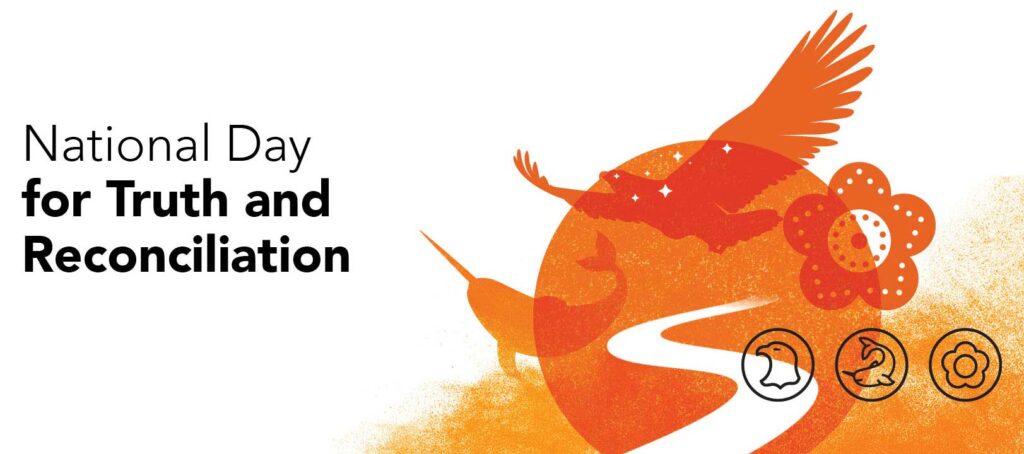 September 30 each year now marks National Day for Truth and Reconciliation, where we are called as a country to remember the context, work and the recommendations of the National Truth and Reconciliation Commission, which completed its work in 2015. It is a time to reflect on the 94 Calls to Action in the Commission's report and what progress has been made. Different organizations report only somewhere between 7 and 17 Calls to Action have been fulfilled. The travesty of our colonial history, and its horrific impact on Indigenous peoples and culture deserves our attention each and every day.
This year, EC3 asked Peterborough/Nogojiwanong Poet Laureate Sarah Lewis to curate the work of two artists, Thamer Linklater and Robyn Pierson, to honour and recognize September 30, and to inspire all of us to continue our work on the path to Truth and Reconciliation. Their work comes to you on self-produced videos.
"EC3 works towards truth and reconciliation as they acknowledge the past harms to the stolen children and survivors, as well as the intergenerational and ongoing trauma inflicted on the families affected by Canadian residential schools and systemically racist systems. In addition to acknowledging the truth, EC3 wanted to focus on amplifying the voices of Indigenous poets who wish to share their stories and calls to action in the name of reconciliation. As Peterborough's first Poet Laureate and an Indigenous woman who has utilized spoken word poetry as a form of activism, I was thrilled to bring these artists together to shine light on what needs to be done amongst our community to mend and heal the relationships between Indigenous peoples and settlers in Nogojiwanong." – Sarah Lewis, Poet Laureate
These videos are being shared on EC3's Instagram, Facebook, and YouTube, and are archived on EC3's website. Audiences can access them any time, at no cost.
"These artists both share a passion for not only raising awareness about Indigenous histories and rights, but how truth and reconciliation should be achieved among allies and within governing systems and institutions in Canada. They are positive role models in the world of business, academia, and change making as it relates to their lived experiences as Indigenous women making decolonial marks in a colonial society." – Sarah Lewis, Poet Laureate
---
"Unnamed"
by Thamer Linklater
Thamer Linklater (they/them, she/her) is a recent graduate of the Masters in Sustainability program at Trent University. She is Cree from Nisichawayasihk Cree Nation in Northern Manitoba and a survivor of the Millennial Scoop. Her most recent work is centred on Indigenous experiences of child welfare, other forms of colonial violence, and contemporary Indigenous identity. Other themes she explores are family, mental health, chronic illness, and current events. Her current projects include black out poetry of Jane Eyre, a collection based on her time in foster care, and a series of zines based on recent experiences.
---
"Is That Reconciliation?"
by Robyn Pierson
Robyn Ivory Pierson, a mother and teacher- left her mainstream career to pursue indigenous education and cultural advocacy through her business - Indigenously Infused. Born and raised in Curve Lake, she strives to ensure mno bimaadiziwin for the next seven generations - by addressing current and longstanding issues that affect Indigenous people here and everywhere.